But what about her beauty muse? Tammy Faye Bakker, apparently.
Take a look at Bachmann's eyelash evolution and scroll down to keep reading.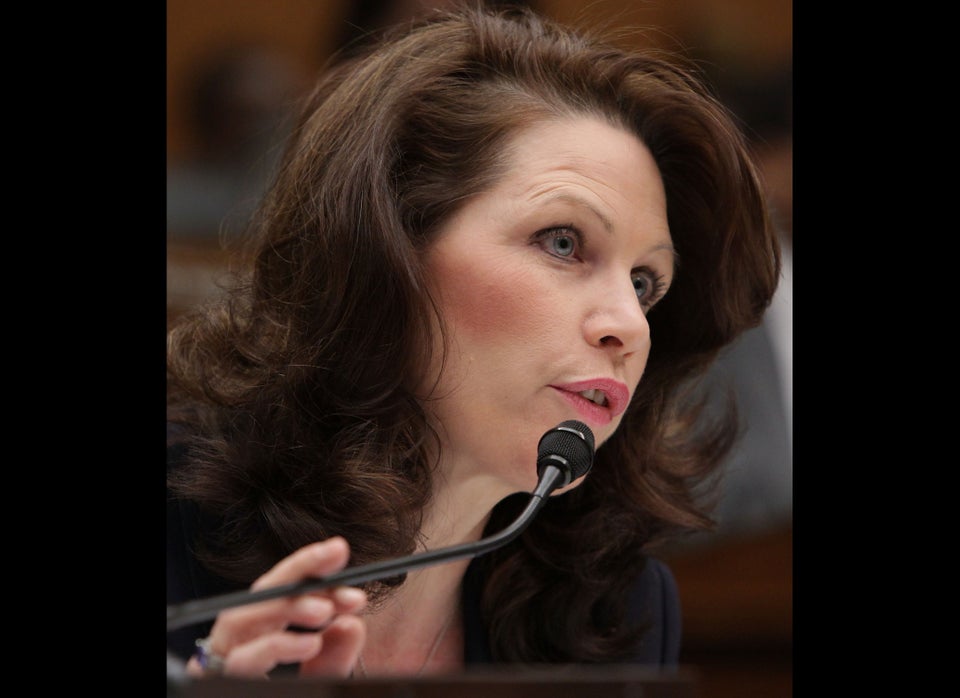 Michele Bachmann: Falsies Or Realsies?
Bachmann has pulled a page from the late singer-slash-evangelist's cosmetic playbook, hitting recent public appearances wearing fake eyelashes. And a handful of blogs are onto Bachmann's enhanced eyelids, with Kelly Ann Collins at Glittarazzi writing, "It looks like she's been experimenting with falsies (or hitting the Latisse bottle) since this spring." Political Diva Bia over at Under The Golden Dome asked, "Did I miss the memo where fake eyelashes suddenly became presidential?" adding, "In fact, it should be some sort of caucus crime."
Bachmann's false eyelashes were the first thing many women noticed in the New Hampshire debate, and some found them completely distracting. Body language expert Carol Kinsey Goman recently analyzed Bachmann's body language for the Washington Post, and gave her high marks for her nonverbal cues conveying her warmth and authority. But, Goman writes, "Bachmann's only body language error may have been a cosmetic one: her decision to wear false eyelashes. Researchers who analyze politicians' blink rate find that fast blinkers rarely win elections. Blink rates increase under stress, and they signal a candidate's nonverbal reaction to pressure. While [Mitt] Romney has a fairly low blink rate, Bachmann has a moderately high one, and the false eyelashes she wore during the debate made her blinks much more obvious than those of her competitors." Her high heels helped her appear taller alongside the men -- which is good, according to Goman -- but the eyelashes worked against her. Sure, it's a superficial thing, but when you're introducing yourself to voters, why send a subtle signal that you're stressed out?
However, Bachmann isn't the first female politico to turn to beauty treatments on the campaign trail.
Emmy Award-winning makeup artist and HuffPost blogger Eve Pearl told us, "Michelle Obama wears lashes, Sarah Palin wears lashes...if Hillary Clinton wore them more often she might be called President Clinton right now."
And an extreme example: Dilma Rousseff, president of Brazil. Rousseff underwent a total metamorphosis before taking office, including plastic surgeries, dental alignment, a salon makeover and an entirely new wardrobe.
Pearl added, "My one note to Michele Bachmann, however, would be that people should be noticing you and not your makeup, which means she needs to improve the makeup application. The lashes should be cut down and not look so fake, the eyeshadow colors can be a bit more neutral and not illuminating shades."