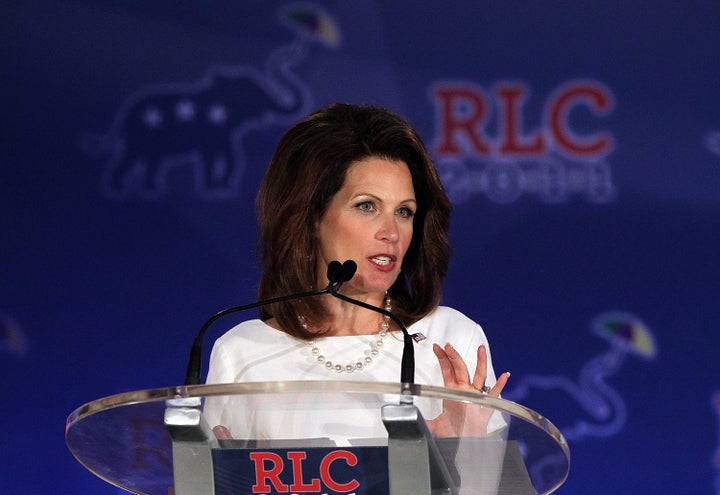 WASHINGTON--Rep. Michele Bachmann mentions her stint as a foster mother at every opportunity, whether she's introducing herself at the recent debate in New Hampshire or speaking at the 2008 Republican National Convention. It's always been a bedrock part of the Bachmann brand.
In the last three months, at least 100 news stories have mentioned Bachmann's claim that she raised 23 foster children. But the GOP presidential hopeful has provided few details about her time as a foster mom; in fact, very little has actually been reported about that period in her life. Former Bachmann neighbors and church members, according to a recent New York Times story, recalled few sightings of those foster kids.
Actual details remain murky, and reports and accounts contradict her public statements. Bachmann has repeatedly said she took in a total of 23 foster children. But a 2001 story in The Minnesota Lawyer put the number of children at 20. A recent article in the Minneapolis Star Tribune quotes Bachmann as saying she raised as many as four foster children at one time. But Minnesota officials say she was only contracted to house three at a time.
And according to the head of the private company that licensed her as a foster parent, Bachmann never even hit that limit. "I would say there weren't any more than two kids at a time," said George Hendrickson, the CEO of the Professional Association of Treatment Homes (PATH).
Because Bachmann went through PATH, she did not work with state agencies at all. The Minnesota Department of Human Services says that Bachmann was licensed on Aug. 7, 1992. According to Hendrickson, the last foster child was placed in her home in 1998. The license was closed out in 2000, Hendrickson said.
Any records documenting foster placements have since been destroyed; records are kept for seven years before they are thrown out.
When asked to release her foster parent records, Bachmann's campaign was non-committal. "You're assuming she still has the records," campaign spokesperson Alice Stewart told HuffPost on Friday. "I will check." (Stewart has yet to provide further information; this article will be updated if she does.)
Hendrickson licensed Bachmann himself and worked directly with her for her first four years of foster parenting. "They were looking for unwed mothers," he said. "She was on maternity leave at the time, so that made sense." He added that Bachmann worked primarily with teenage girls -- many from an outpatient eating disorder treatment program.
Some foster children stayed with the Bachmann family for short periods of time, Hendrickson said, while at least one stayed for close to a year. He did not recall hearing any complaints about Bachmann. "She was well-organized," he said. "There's a very soft, nurturing side to her."
Hendrickson did remember one thing that really stuck out: Bachmann's home decor. "You could have picked up the home and placed it in Boston," he said. "It was decorated in that kind of style -- it had a lot of the older style." He compared the home in a favorable light to Colonial Williamsburg.
"I didn't have families that were furnished that way," Hendrickson said. "It was a beautiful home."

Calling all HuffPost superfans!
Sign up for membership to become a founding member and help shape HuffPost's next chapter