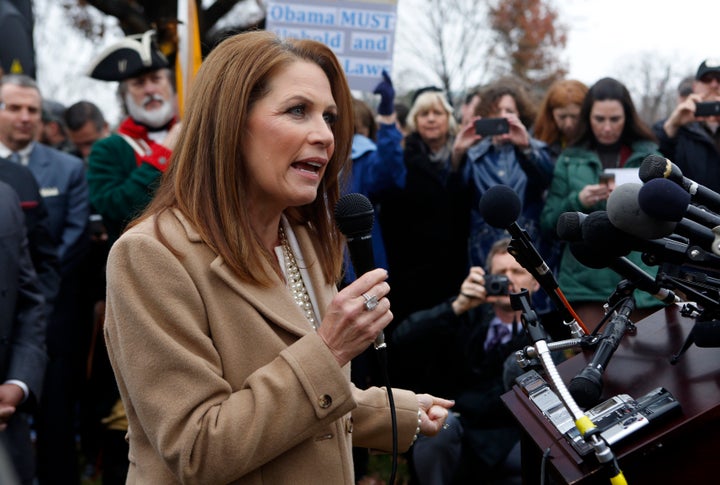 It may not be so readily apparent to the voter, but female candidates have to deal with substantially more bullshit when they run for public office than their male counterparts.
They get called names like "abortion barbie" or are mocked for looking their age or for the clothes they wear. Former Secretary of State Hillary Clinton inspires listicles cataloging the sexist vitriol she gets from conservative and even liberal pundits. It's not just media treatment that makes it harder for a woman running for office. Voter perceptions are affected by gender too. And even the minutia of a campaign -- the daily tasks that complicate even well-laid plans -- often work against female politicians.
Former Rep. Michele Bachmann's (R-Minn.) run for the White House in 2012 is remembered by her anti-Obama screeds, her Iowa straw poll win, her rapid rise and her equally quick fall. But it is defined, in her telling, by challenges posed by her gender.
In the latest Candidate Confessional, Bachmann detailed those challenges: from the oddly personal questions she would get from the press to the superficial demands that came with being on the biggest stage.
During one swing through South Carolina, she recalled, she was forced to make four outfit changes -- some taking as long as an hour -- as she battled through the oppressive humidity.
"There were 1,500 people that came out for the speech," Bachmann recalled. "And they were outside and I gave this speech and it was just blistering hot and humid and I was literally just drenched with sweat by the time that I was done. We had our campaign bus. So we went on the campaign bus. ... I had to go in and take a shower and start over and do another hair and makeup while we were driving to the next city. So that's another hour."
That experience stays with Bachmann. Though she spoke out recently in defense of Donald Trump against charges of sexism, she also had an unexpectedly empathetic take on Clinton's presidential campaign. Their politics are diametrically different -- Bachmann, who left Congress in 2014, was one of the most controversial conservatives in the House-- but they shared, as Bachman put it, the burden of being a woman running for office.
"I really do have great empathy for what Mrs. Clinton is going through, because the hill that she has to climb on -- appearance -- it's just a different hill than men have to climb," Bachmann said. "I'm not whining about it. It's just reality. It is what it is."
Listen to the podcast above. Or download it on iTunes. And while you're there, please subscribe to, rate and review our show. Make sure to tune in to next week's episode when our guest will be Stuart Stevens, the top advisor to Mitt Romney's 2012 campaign for the White House.
Popular in the Community