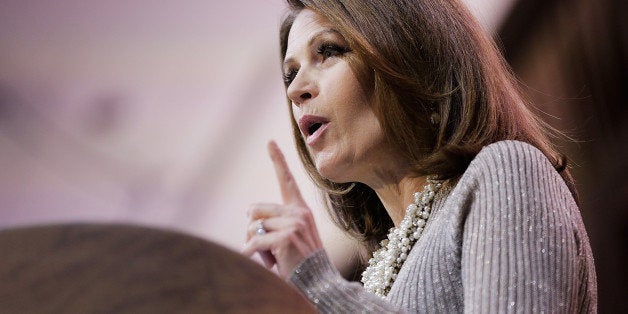 A conservative congresswoman says the United States should confiscate all the money undocumented immigrants send home because the U.S. is at war with them.
"What I believe we should do is have a 100 percent tax on remittances, the money that illegal aliens send back to these countries," Bachmann said, according to an audio of the call posted to Right Wing Watch's website on Tuesday.
She went on to say that undocumented immigrants had launched a war against the United States by crossing the border in order to work, reunite with family or seek refuge from threats and lawlessness in their home countries, where the United States has destabilized governments and financed state-sponsored violence.
"What we have to recognize is that this truly is a war against the American people," Bachman said. "And if we don't act like it and take this border seriously, we're going to have even more gangs."
Bachmann said that Hispanic U.S. citizens living along the U.S.-Mexico border had told her that they wanted to complete a border fence to stem the problem of illegal immigration.
"When are we going to get serious and really deport and deport right on the border?" Bachmann asked, paraphrasing the people she said she talked to.
Bachmann's comments were prompted by the influx of some 57,000 unaccompanied child migrants entering illegally since October. By U.S. law, unaccompanied minors from countries other than Mexico apprehended at the border are placed in the care of the Office of Refugee Resettlement and often released into the custody of a relative while their deportation case works its way through the immigration courts.
Despite the renewed attention to the issue due to the child migrant crisis, illegal immigration has declined significantly from its peak levels in the 1990s. Customs and Border Protection apprehended some 414,397 migrants crossing the U.S.-Mexico border illegally last year -- less than half the number in 2007, and roughly a quarter of the 1.64 million undocumented immigrants apprehended at the border in 2000.
REAL LIFE. REAL NEWS. REAL VOICES.
Help us tell more of the stories that matter from voices that too often remain unheard.
BEFORE YOU GO
PHOTO GALLERY
6 Misconceptions About The Border