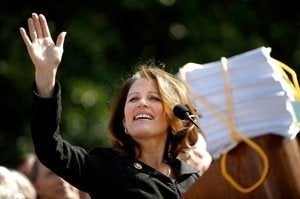 Watchdog group Citizens for Responsibility and Ethics in Washington (CREW) has requested an investigation into whether Rep. Michele Bachmann (R-Minn.) broke House rules in organizing an anti-health care reform rally on November 5.
In a letter sent to the Office of Congressional Ethics (OCE), CREW contends that Bachmann violated House rules by using her official member's website to garner "grassroots lobbying" for the health care protest in question.
The Members' Handbook specifies: The content of a Member's Website... [may] not include grassroots lobbying or solicit support for a Member's position." CREW argues that Bachmann broke this rule.
In a November 2 release posted on Bachmann's House website, the congresswoman said:
The people need to make a House Call on Washington this week and tell their Representatives to vote no to a government take-over of one-fifth of our economy. This is gangster government at its worst.

I urge all Americans to come to Washington this Thursday. Come and meet up with your Representative and tell them that you want to control your health care.
According to Melanie Sloan, executive director of CREW, "Taxpayers fund members' websites and because of that those sites may not be used to organize a public rally for or against any particular legislation."
CREW also requested that the OCE investigate whether Bachmann violated House rules "by failing to acquire a permit for the demonstration and by falsely portraying it as a press conference."
In response to charges of misconduct, Bachmann's press secretary told Politico, "Rep. Bachmann's website encourages the American people to exercise their right to petition and ensure their voices are heard, what ever their position may be."
Popular in the Community