 * Tea Party favorite is divisive, even within her party
* Minnesota Congressional race most expensive in nation
* Opponent says she ignored district for White House run
ST. CLOUD, Minn., Nov 2 (Reuters) - U.S. Representative Michele Bachmann, known for controversial comments during her Republican presidential nomination bid, faces a tough congressional election challenge on Tuesday in a Minnesota district that should be friendly to conservatives.
The race in the sprawling Minnesota 6th Congressional District has been the nation's most expensive in both money raised and spent by Bachmann and Democratic challenger Jim Graves, according to the Center for Responsive Politics.
The two candidates have raised a total of $22.7 million and spent $20.8, the center reported.
Bachmann, a champion of Tea Party backers of smaller government and conservative social issues such as opposition to abortion and gay rights, has outspent Graves by more than twelve-to-one in seeking election to a fourth term in Congress.
But her remarks, including an insistence on a link between an aide to Secretary of State Hillary Clinton and the Muslim Brotherhood, have been denounced by some in her own party and may be wearing on voters, experts said.
Defeating Bachmann would be a significant victory for Democrats, who are fighting an uphill battle nationally to gain the 25 seats needed to retake the U.S. House majority.
Her opponent lacks name recognition, but has used Bachmann's presidential campaigning for half of her two-year congressional term to accuse her of pursing personal ambition over the needs of her constituents.
"When she was running for president, her attention was clearly not on district concerns and I think that perception stuck with some voters and it is a vulnerability that Graves is trying to exploit," Carleton College political science Professor Steven Schier said in a telephone interview.
Bachmann led Graves by 51 percent to 45 percent in an Oct. 16 poll by Pulse Opinion Research commissioned by the StarTribune newspaper. The poll had a 3 percent margin of error.
Bachmann has sought to tag Graves, founder of the AmericInn hotel chain, as a supporter of President Barack Obama's health reform law. Graves, who describes himself as a fiscal conservative, has argued that "there are some good things" in the act, but "the heavy lifting has not begun."
"You can have your opinions, but you can't have your facts on this one," Graves said during a debate on Tuesday.

A formidable fundraiser, Bachmann had nearly $3.3 million cash on hand on Oct. 17, compared to Graves' $471,311, according to reports filed with the Federal Election Commission.
Bachmann said several times during the debate in St. Cloud that she was focused on the district, echoing her campaign ads.
"I have paid attention and I have delivered for this district," Bachmann said in the debate. "I know what the pulse is of this district because I am here nearly every weekend."
District voters said job creation was their top concern, as it has been nationally, whether they support Bachmann or Graves.
"The number one thing, we have got to get people working," said Matt Salo, who has voted Republican in the past and describes himself as a conservative.
Jeff Johnson, who said he worked 22 years at the Verso Paper Corp. plant in Sartell and had recently completed training as a truck driver, was one of dozens of vocal Graves supporters at the debate. "He is in touch with the people," Johnson said of Graves. "Michele Bachmann is out there."
The district encompasses eastern, northern and western suburbs of Minneapolis and St. Paul and stretches north and west to central Minnesota farms and cities. The already conservative district grew more Republican after a 2010 redistricting, analysts have said.
"This is a district that should be a safe Republican district, but Michele Bachmann has never been safe in that district and I think it is because she is so flamboyant and controversial a figure," Schier said of Carleton College.
Bachmann has never won more than 53 percent of the vote in the 6th district and won by only 3 percentage points in the last presidential election year of 2008.
Hamline University Professor David Schultz said Bachmann may have alienated some constituents when she embraced her Iowa roots during the presidential campaign, making the race more competitive, but he still expected her to win reelection.
"I still think she has the district to her advantage. She has the name recognition and she is a money machine," Schultz said. "She is able to raise phenomenal amounts of money."
Jerry Relph, a Bachmann supporter from St. Cloud, said he believed it was "disrespectful" for Graves to say Bachmann had not been a part of the district. "I don't know how anyone with that attitude can reach across any party line if that is what he is claiming to do," Relph said.

Before You Go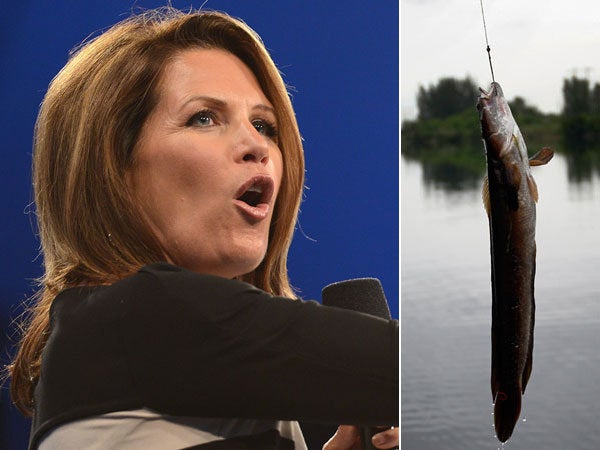 Michele Bachmanns Favorite Things
Popular in the Community