WASHINGTON -- A group of high-profile tea party Republicans are overseas this week on a taxpayer-funded trip to Egypt, Lebanon, Libya, Israel, Austria and Norway. GOP Reps. Michele Bachmann (Minn.), Steve King (Iowa) and Louie Gohmert (Texas) arrived in Egypt on Saturday for the weeklong congressional delegation trip, or CODEL for short, The Huffington Post has learned.
This is the second time in six months that Bachmann, King and Gohmert have visited the Middle East to deliver messages that seemingly challenge the Obama administration's foreign policy. At a time when U.S. relations with the Middle East, and Israel in particular, are incredibly delicate, the visit by some of Congress' most conservative members could send complicating, if not conflicting, signals to key allies.
On Sunday, the three lawmakers met with interim Egyptian President Adly Mansour and Defense Minister Gen. Abdel Fattah el-Sisi. After departing Egypt on Monday, the trio went on to Beirut and then Libya, where they were joined by freshman Rep. Robert Pittenger (R-N.C.) for an eight-hour visit to the capital, Tripoli. From Libya, the foursome moved on to Israel, where they met with Israeli Prime Minister Benjamin Netanyahu. A spokeswoman for the Israeli Embassy in Washington confirmed the meeting, telling HuffPost that Netanyahu "meets with each and every Member of Congress who visits Israel, irrespective of party affiliation."
According to an itinerary provided to The Huffington Post, the U.S. lawmakers was scheduled to depart for Austria on Thursday, where they planned to meet with far-right political figures such as Austrian Member of Parliament Andreas Karlsboeck. The group will return to the United States on Saturday after a stop in Oslo, Norway.
Spokesmen for Bachmann, King and Gohmert refused to discuss the details of the trip. But a spokesman for Pittenger said the lawmaker was traveling in his role as chairman of the Congressional Task Force on Terrorism and Unconventional Warfare. Pittenger is not closely aligned with the tea party faction of the GOP, and this summer he was one of only a handful of Republicans who openly opposed a government shutdown.
Pittenger "is tasked with studying issues related to terrorism and unconventional warfare and reporting back to his colleagues and leadership," spokesman Jamie Bowers told HuffPost. "The goal [of the trip] is to provide a 'Members perspective' on these issues, to better shape legislative action that protects against new and emerging threats."
Much of the trip was shrouded in secrecy, especially the stop in Libya, where militia rule has threatened, if not replaced, law and order throughout much of the country. Last Friday, the U.S. State Department issued a special travel warning for Libya, saying it "strongly advises against all but essential travel to Tripoli."
"When CODELs travel overseas, U.S. Embassy personnel in that country provide the appropriate support," said a State Department official, speaking on background. "I am not going to further discuss the CODEL process. As is customary, for all press inquiries regarding CODELs, I refer you to the leading member's press office."
Asked if there were any specific security concerns raised by the visit, the official said, "Our travel warning on Libya speaks for itself."
While the details of the lawmakers' meetings in Libya have not been made public, Bachmann, King and Gohmert are among the House Republicans who believe the Obama administration conspired to cover up the circumstances of the 2012 death of U.S. Ambassador Chris Stevens in Benghazi, Libya. Late last year, King said that while he didn't know the chronology of events surrounding Stevens' death, whatever happened is "a lot bigger than Watergate, and if you link Watergate and Iran-Contra together and multiply it times maybe 10 or so, you're going to get in the zone where Benghazi is."
The three representatives have often been at odds with other elements of the president's foreign policy as well. On a visit to Egypt in September, Bachmann, King and Gohmert taped a video message highly critical of former Egyptian President Mohammed Morsi at a time when the administration was publicly rebuking Morsi's successors, a military-led government, for allegedly violating human rights. Bachmann even went so far as to suggest that Morsi's political party, the Muslim Brotherhood, was responsible for the 9/11 terrorist attacks.
"We have seen the threat that the Muslim Brotherhood has posed around the world. We stand against this great evil," Bachmann said in a YouTube video. "We remember who caused 9/11. We remember who it was that killed 3,000 brave Americans."
Watch Bachmann, King and Gohmert's September message to the Egyptian people:
Speaking of the escalating tension between the United States and Israel over the current nuclear negotiations with Iran, the Texas congressman also said that unless the Obama administration "can find a verse that accurately says that those who betray Israel will be blessed, then this country is being dug in a deeper hole by this administration and its betrayals of Israel's trust."
Once the group of four departs the Middle East for Vienna on Thursday, their itinerary shifts somewhat, as they prepare to meet with right-wing political figures in Europe. In Austria, this will reportedly include a visit with Karlsboeck, a member of the Austrian Parliament from the far-right Freedom Party of Austria. As a conservative populist party, the FPO has been criticized throughout Europe for its xenophobic and anti-Muslim rhetoric.
A spokesman for the Austrian Embassy in Washington said the embassy had no part in arranging meetings for Bachmann, King, Gohmert or Pittenger.
FPO members describe themselves as "pro-Austrian," instead of anti-foreigner, but according to Reuters, the party "continues to attract a neo-nazi fringe which has no other party to join and warns continually of an 'Islamicisation' of Catholic Austria."
Bachmann has long worried about what she describes as an "infiltration" of American government by radical Muslims. The most high-profile example of this was her attack on Hillary Clinton adviser Huma Abedin. She and Gohmert were both among a small group of House members who raised questions in a 2012 letter about "the Muslim Brotherhood and other radical groups' access to top Obama administration officials."
Bachmann has also reportedly requested a lunch with Elisabeth Sabaditsch-Wolff, an Austrian anti-Islam activist and lecturer who was convicted of hate speech in 2011. Sabaditsch-Wolff was fined under Austrian law for vilification of religious theories, such as saying that the Quran was "evil" and that "Muslims want war." In the United States, however, she has been accepted in mainstream conservative circles, appearing in 2010 at the Conservative Political Action Conference in Washington.
Bachmann's spokesman did not respond to questions about the meetings.
Before You Go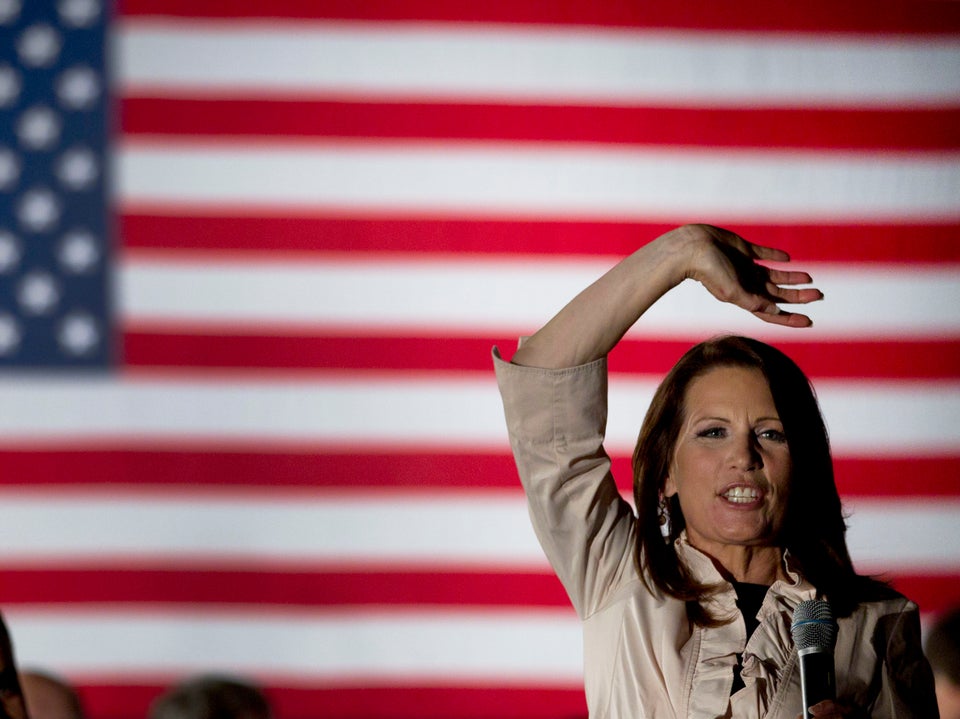 Waves Of Michele Bachmann
Popular in the Community