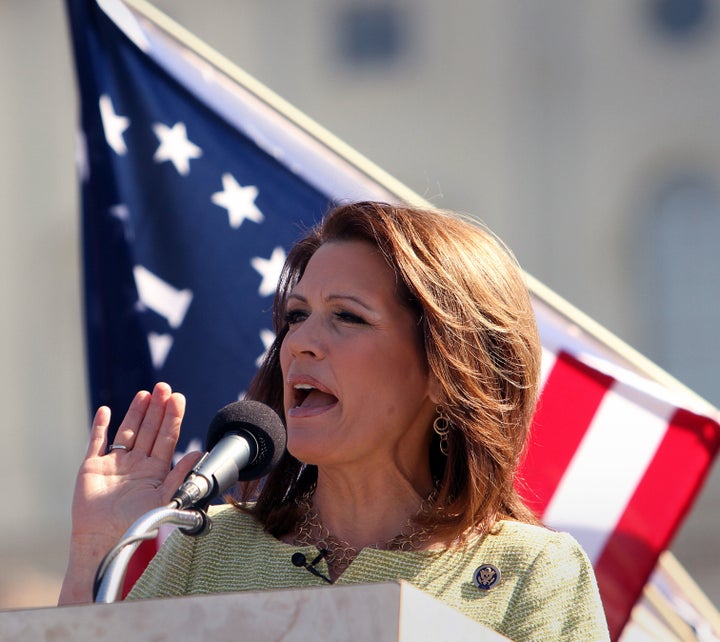 Major Republican gains today are likely to produce some entertaining leadership and policy battles down the road, as the conservative wing -- emboldened by the election results -- asserts its thumbprint on the party's image.
How much intransigence there will be among the Tea Party sect will ultimately be determined by the ability of GOP leadership to satisfy their demands. But already, the possibility for friction is emerging. On Tuesday, Rep. Michele Bachmann, one of the more eccentric members of the Republican Party, put out feelers that she would like to assume the leadership role likely to be vacated by Rep. Mike Pence (R-Ind.)
FOX has learned that there is a "draft Michele Bachmann" effort afoot among House conservatives (and prospective members) to move the Minnesota Republican into the leadership.

Rep. Michele Bachmann (R-MN) founded the tea party caucus last year. It's thought that House Republican Conference Chairman Mike Pence (R-IN) will step down (he's the number three in GOP leadership on the minority side...the slot would be the number four position in a GOP majority).

Some establishment Republicans are suspect of Bachmann and uncomfortable with some of her ideas. And moving her into leadership could make some GOPers wince.
Popular in the Community