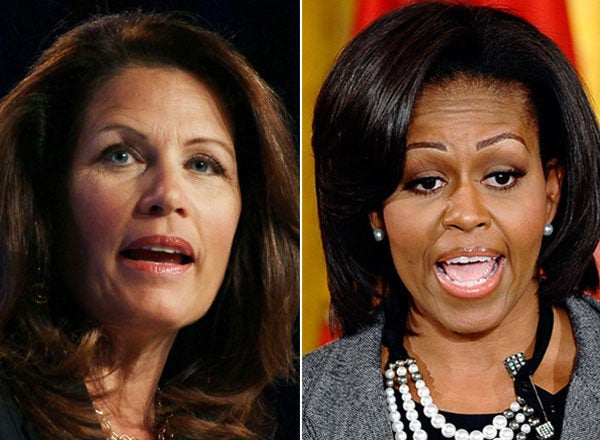 Rep. Michele Bachmann (R-Minn.) took aim at a First Lady Michelle Obama and her trademark health initiative Tuesday, claiming that her recent efforts to encourage mothers to breastfeed their children were really part of a plan to implement a new "nanny state," perhaps because she was priming for a future Senate run.
"This is very consistent with where the hard left is coming from," Bachmann said on "The Laura Ingraham Show" of Obama's effort, which urges childhood nursing as a way to reduce obesity. "For them, government is the answer to every problem."
Bachmann then explained that she had breastfed all five of her children, but argued that the concept of creating a federal program that would reward such a practice was outrageous.
"To think that government has to go out and buy my breast pump for my babies? You wanna talk about the nanny state, I think you just got a new definition," Bachmann said.
Ingraham then asked Bachmann if she saw the first lady's leadership on these health issues as evidence that she was posturing for a political career of her own.
"She might," Bachmann said, according to Politico. "Can you imagine if Laura Bush was doing that, out trying to pass her legislation? I think the media would have been after her."
Popular in the Community