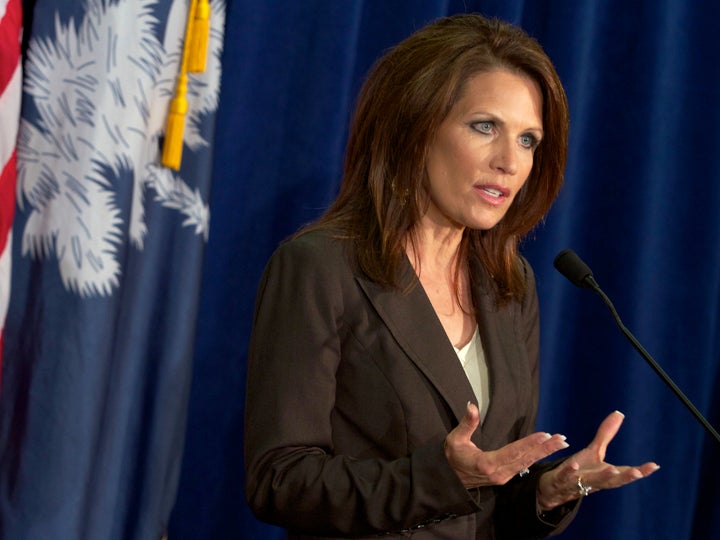 This post has been updated.
Republican presidential candidate Michele Bachmann's campaign is pushing back against a story published online by the Daily Caller on Monday night suggesting the conservative congresswoman suffers from headaches that can "incapacitate" her for days.
A former aide to Bachmann told the Daily Caller that when a former communications director to the congresswoman left her office, the Minnesota Republican experienced medical symptoms that landed her in the hospital "within 24 hours." Bachmann and the former staffer, Dave Dziok, were reportedly on good terms at the time of his departure.
Dziok declined to elaborate on the situation that unfolded at the time, but told reporters that the episode experienced by Bachmann should not be received as a cause for concern.
Dziok did not speak to the Daily Caller for the story.
Citing three individuals who have worked in close proximity to Bachmann, the Daily Caller reports that it was not an isolated incident, and that Bachmann suffers from migraines on a regular basis and has been hospitalized multiple times as a result.
When asked by Politico about the story, Bachmann spokeswoman Alice Stewart reiterated what she told the Daily Caller in response to the contents of its report.
"She suffers from migraines and they're under control with medicine," said Stewart before going on to dispute that the headaches can prove "incapacitating" for the congresswoman. She told Politico that claims included in the story are "bogus" and that she has never witnessed her boss experiencing medical symptoms as described in the piece.
Bachmann formally declared her candidacy for president of the United States in the key early primary state of Iowa last month.
"We can win in 2012 and we will," she said in launching her campaign. "Our voice has been growing louder and stronger. And it is made up of Americans from all walks of life like a three-legged stool. It's the peace through strength Republicans, and I'm one of them, it's fiscal conservatives, and I'm one of them, and it's social conservatives, and I'm one of them. It's the Tea Party movement and I'm one of them."
Since her announcement, Bachmann has found success in connecting with voters on the right side of the aisle and has made headway in the polls. The Republican hopeful, however, also hasn't failed to stir controversy on the trail.
A new survey out from Public Policy Polling shows Bachmann running at the head of the Republican presidential primary pack.
Click here to read the report released by the Daily Caller.
Correction: This post previously indicated that Dziok spoke with the Daily Caller, which is not the case.
Popular in the Community