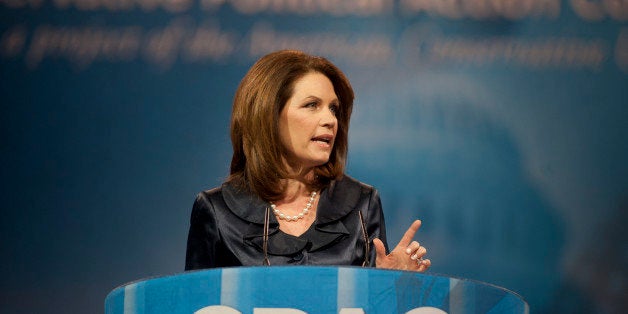 Rep. Michele Bachmann (R-Minn.) weighed in on the looming government shutdown on Monday, saying she believes Democrats are refusing to negotiate with Republicans on a continuing resolution that delays the implementation of President Barack Obama's health care reform law because the party is eager to get individuals hooked on the measure.
"I think the reason is because President Obama can't wait to get Americans addicted to the crack cocaine of dependency on more government health care," Bachmann said in an interview with conservative website WorldNetDaily. "Because, once they enroll millions of more individual Americans it will be virtually impossible for us to pull these benefits back from people."
She continued, "All they want to do is buy love from people by giving them massive government subsidies."
Early Sunday, the Republican-controlled House passed a stopgap spending bill that would delay Obamacare's implementation for a year. However, as Senate Majority Leader Harry Reid (D-Nev.) made clear, the bill has no chance in the Senate.
"After weeks of futile political games from Republicans, we are still at square one: Republicans must decide whether to pass the Senate's clean [bill], or force a Republican government shutdown," Reid said.
The health care program is currently set to begin open enrollment on October 1.
Last week, Bachmann defended her previous claim that Obamacare "literally kills" people after Obama mocked her statement.
"You bet this can happen," Bachmann said of the law in a Friday interview with CNN. "That is what I'm worried about. Not just me, people all across the United States. So this is literally an issue of life and death. I don't want to be proved right."
REAL LIFE. REAL NEWS. REAL VOICES.
Help us tell more of the stories that matter from voices that too often remain unheard.
BEFORE YOU GO
PHOTO GALLERY
Waves Of Michele Bachmann