Rep. Michele Bachmann (R-Minn.) started running ads Thursday on Twin Cities television, touting House passage of her bill to repeal Obamacare -- just under a year and a half from her reelection bid.
"Great news!" Bachmann says in the ad. "The U.S. House just passed my bill to repeal Obamacare."
"Obamacare promised us lower costs and a better health care system. But the truth is just the opposite. Unaffordable, skyrocketing insurance costs and a system so complicated, well, even Democrats are calling it a 'train wreck,'" she continues, closing, "Passing my bill to repeal Obamacare is just the first step towards lower costs and improved health care."
The ad began running the same day that the House voted to pass her bill. The 37th attempt to repeal the law does not stand a chance in the Democratic-controlled Senate and the White House has promised a veto threat. However, the early start to the ads demonstrates that Bachmann -- who eked out a one-point victory in 2012 -- is not leaving anything to chance as she faces a rematch against Democrat Jim Graves.
Bachmann is already a top target among Democrats for 2014. In April, the liberal-leaning CREDO super PAC announced that she is their first target for the 2014 cycle, and the Democratic Congressional Campaign Committee released a video in highlighting the ethics investigations surrounding her failed 2012 presidential campaign.
Bachmann has reserved around $85,000 in ad-buy time, not a large buy for a candidate with deep pockets. At the end of the end of the first quarter 2013, she had over $679,000 in contributions and reported almost $1.9 million in cash on hand. Graves, a hotel executive, only had about $25,000 in cash on hand as of the end of the first quarter. However, his campaign told Politico in April that they had raked in over $100,000 in donations, though official figures will not be released until July 15.
UPDATE: Graves responded to Bachmann's ads in a statement to HuffPost.
"We have a real challenge in bending the cost curve of health care and the ACA doesn't get us there. Neither does futile grandstanding that costs the taxpayers tens of millions and wastes Congress's time," he said. "Let's get serious, roll [sic] up our sleeves and work on a bi-partisan solution to control the growth in health care costs. The 6th District deserves representation willing to talk with the people face-to-face about real solutions, not through paid media about wasteful stunts."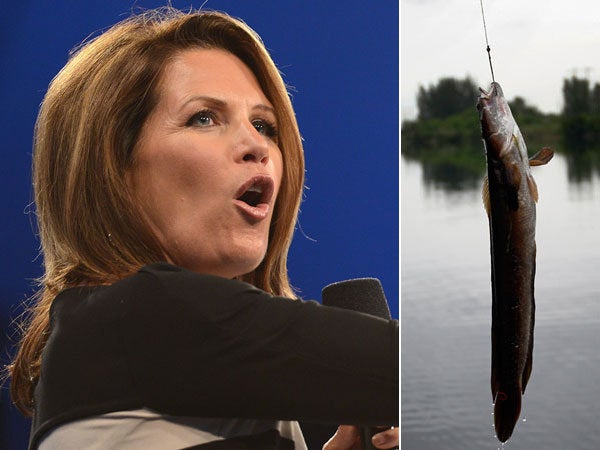 Michele Bachmanns Favorite Things
Popular in the Community