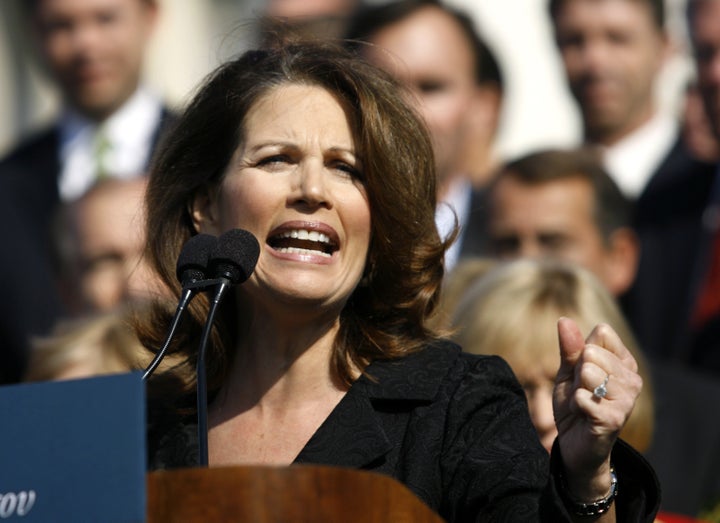 Rep. Michele Bachmann (R-Minn.) is reportedly weighing a 2012 presidential run that could make her the second strong female contender in the GOP field, according to ABC News.
A source close to the three-term congresswoman said Bachmann will travel to Iowa this month for multiple meetings to seek advice from political forces there and party elders close to the caucus process before coming to a final decision regarding a potential presidential run. Bachmann, a native of Waterloo, Iowa, also is set to deliver a keynote speech at an Iowans for Tax Relief PAC fundraiser Jan. 21 in Des Moines, Iowa.
Tickets to that event will cost $25 per person and $40 per couple, though donors can up their contributions to $250 or $1,000, ABC News reports, a testament to Bachmann's adept fundraising ability.
While many had believed her proven prowess and desire for increased visibility as a possible sign that she was priming the pump for a challenge to Minnesota Senator Amy Klobuchar (D) in 2012, the latest waves in Iowa have many, including her staff, fueling the speculation that she could be putting President Obama in her sights instead.
"Nothing is off the table," Bachmann chief of staff Andy Parrish told ABC News about the congresswoman's potential presidential aspirations.
Another Minnesotan, the state's outgoing governor, Tim Pawlenty, has also been floated as a potential presidential candidate, leaving some to wonder if there is enough room for both of them in the race.
A further potential complication could arise in the dynamic between Bachmann and former Alaska Governor Sarah Palin, who has also made a habit of stirring rumors about a run for president. The two have combined for seismic fundraisers in the past, and Palin notably named Bachmann to her list of "mama grizzly" endorsements in the lead up to her victory.
In 2009, Bachmann claimed that she wouldn't consider a run for the nation's highest office unless God was calling her to do it.
Popular in the Community