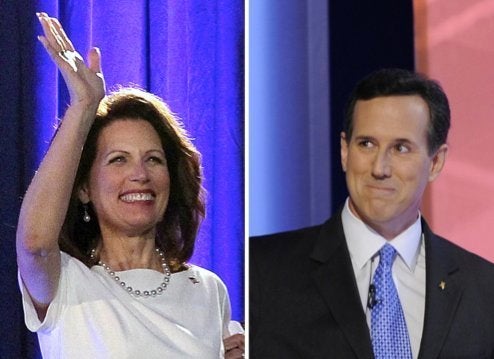 Republican presidential contenders Michele Bachmann and Rick Santorum have lined up behind a new pledge focused on social issues put forth by Bob Vander Plaats, a former candidate for governor who now reigns as a conservative kingmaker in the Hawkeye State.
Vander Plaats heads the Iowa-based Family Leader, a conservative group. Signing "The Marriage Vow - A Declaration of Dependence Upon Marriage and Family" is a requirement for earning the organization's endorsement.
Standing behind the pledge entails supporting a "federal Marriage Amendment to the U.S. Constitution which protects the definition of marriage as between one man and one woman." Among other things, it also means backing a ban on pornography.
Santorum was the first presidential candidate to contact the Family Leader after the organization announced its candidate pledge document on Thursday, according to a statement issued by the Pleasant Hill-based group. Bachmann also contacted the Family Leader and was the first candidate to send her signed document to the organization, officials said.
A spokesman for GOP candidate Tim Pawlenty told the Register on Thursday night that the presidential hopeful was reviewing the pledge. Meanwhile, former Utah governor Jon Huntsman said last month, "Other than the pledge of allegiance, I don't do a whole lot of pledges."
In a statement Vander Plaats said, "We are intentional about the opportunity to take another step in fulfilling our mission to 'Strengthen Families' by providing The Marriage Vow to presidential candidates." He added that his group "views this pledge as an important component needed to inform constituents about the personal stand that each presidential candidate takes regarding marriage. We believe that the candidates' positions on core values, such as marriage, correlate directly to his/her moral stances on energy issues, sound budgeting policies, national defense, and economic policies."
Below, full text of the pledge.
Popular in the Community