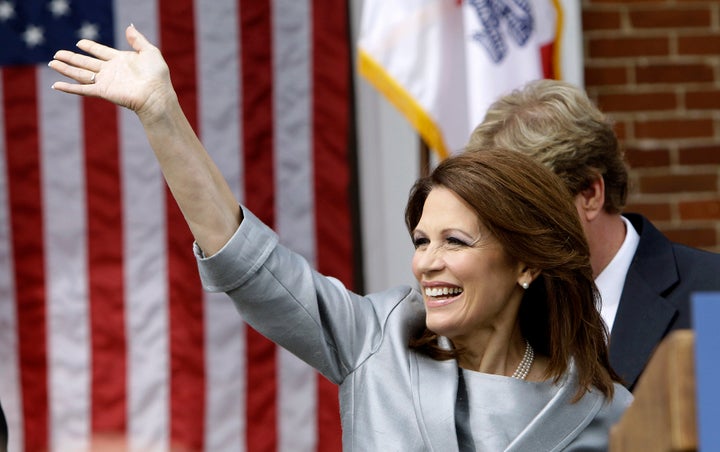 PLYMOUTH, Minn. -- Parker's Lake is a pleasant suburban spot near Minneapolis, a nice place to fish in summer and skate in winter. At the picnic pavilion, "brats" were on the grill as local Democrats gathered to raise money and their own spirits, listen to a speech by Sen. Al Franken -- who grew up nearby -- and talk about the 2012 presidential race.
The message from Parker's Lake: Take Rep. Michele Bachmann (R-Minn.) very seriously.
"She's really smart," said Mike Quist, a retired avionics engineer who wore his red-white-and-blue suspenders to the picnic. "She's no Sarah Palin -- she's much more dangerous than Sarah Palin."
It's always useful to ask home-state voters -- especially those from the other party -- about a new presidential candidate, and especially when she is in the midst of an announcement tour elsewhere.
Democrats in this swing-suburb (the congressional district voted for Barack Obama in 2008 and elected a Republican to Congress in 2010) know Bachmann. Some of the local pols worked with her in the legislature; her district is next door.
Their basic view is this: Bachmann is as right-wing as they come -- a pure pro-life, anti-gay-marriage, vehemently anti-tax and anti-regulation true-believer (her family's farm subsidies and foster-care payments notwithstanding). But the locals also regarded her as focused, disciplined, shrewder and more knowledgeable than her often-squirrely cable TV hits make her seem.
"The thing is, she knows how to appeal to the Christian right social types and the Tea Party at the same time," said Patricia McGurk. "She can claim that 'tax expert' labels because of her law background. She's clever."
Professional practitioners at the picnic -- the state legislators and long-time organizers -- noted that she had hired some seasoned advisers, including Ed Rollins and Mike Huckabee's former campaign press secretary, Alice Stewart.
And they denounced -- but in a way admired -- her ability to package herself as her message.
"I think she is dangerous," said State Sen. Terri Bonoff, who represents the area. "She acts like she is selling a brand. Well, politics and government isn't about a slogans and brands, it's about having a real debate on the issues."
No one at the picnic seemed to regard the state's other GOP contender -- former Gov. Tim Pawlenty -- as a major political threat. It was duly noted that his campaign seemed to be going nowhere nationally.
For some reason, the mild, polite and studious people of Minnesota produce a disproportionate number of colorful national politicians: Gene McCarthy, Hubert Humphrey, Paul Wellstone, Jesse Ventura, Franken and Bachmann to name a few.
Boring Minnesota politicians tend not to do that well on the national stage. The earnest-but-dull Walter Mondale lost 49 states to incumbent Ronald Reagan in the 1984 presidential elections. And on the charisma front, Mondale was John F. Kennedy when compared with Pawlenty.
That makes Bachmann the Minnesota Viking to watch as she launches her campaign in Iowa running neck-and-neck there with frontrunner Mitt Romney.
There were those at the picnic who thought a contest between Bachmann and Romney in Iowa would be no contest at all.
"He has all the personality of mortician," said Juanita G. (she declined to give her last name). "All of that fake emotion is creepy. I can't stand Bachmann. I think she's crazy. But she's real."

Popular in the Community