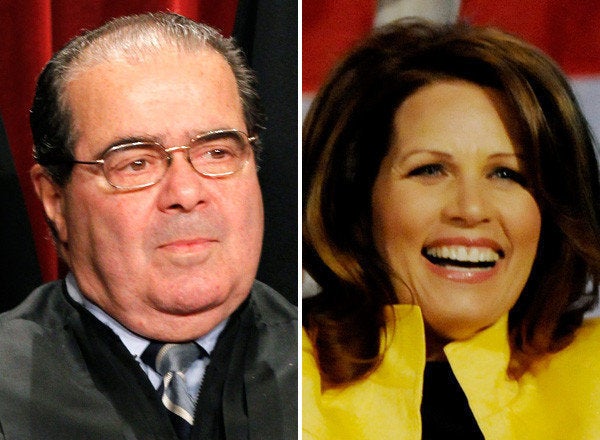 Rep. Michele Bachmann (R-Minn.) recently said that she's planning to kick off her congressional constitutional education classes for incoming representatives with a bang, now that conservative Supreme Court Justice Antonin Scalia has allegedly agreed to teach the first course.
In an interview with Lou Dobbs, Bachmann described the forthcoming weekly sessions as similar to "what the NFL does and what the baseball teams do."
"We're going to practice every week, if you will, our craft, which is studying and learning the Declaration, the Constitution, and the Bill of Rights," Bachmann explained.
"Justice Scalia has graciously agreed to kick off our class the hour before we cast our first vote in Congress, we'll meet in the Capitol, we'll have a seminar on some segment of the Constitution, we'll have a speaker, we'll have questions and answers, we'll wrap our minds around this magnificent document," Bachmann continued. "That'll set the tone for the week when we're in Washington."
According to Talking Points Memo, the Supreme Court's Public Information Office has not yet verified Bachmann's claim about Scalia, though her office has maintained that the justice and the congresswoman have reached an agreement.
On top of Scalia, Bachmann has intimated her intent to get another member of the Supreme Court bench, Chief Justice John Roberts, to lead a future seminar.
Beyond Supreme Court Justices, Bachmann has also supposedly made plans to court a variety of other conservative stars, such as 9/11 "truther" conspiracist and Judge Andrew Napolitano, Fox News personality Sean Hannity, and controversial Evangelical and separation-of-church-and-state denier David Barton to teach the "bipartisan" classes, AOL News reported last month.
Calling all HuffPost superfans!
Sign up for membership to become a founding member and help shape HuffPost's next chapter