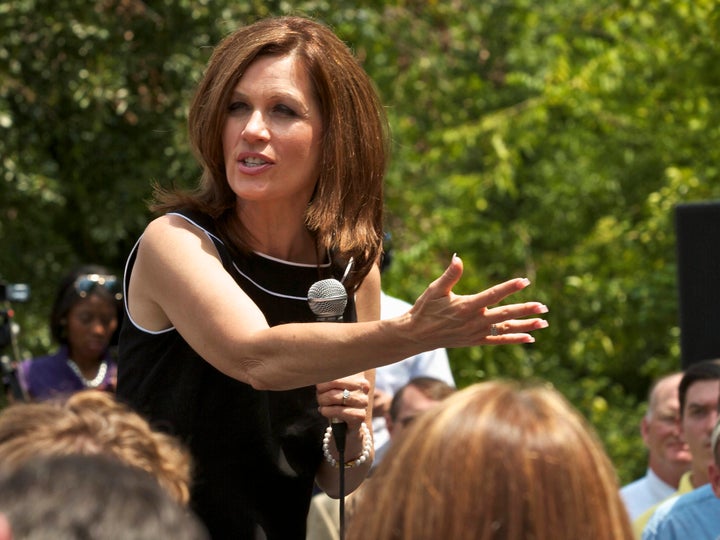 WASHINGTON -- A Super PAC now backing Rep. Michele Bachmann (R-Minn.) in the 2012 Republican primary received scrutiny in 2010 both for its questionable fundraising during the 2010 elections and for the questionable political activities of its staff and funders.
The super PAC, Citizens For A Working America, announced Wednesday that it would back Bachmann in the GOP primary. Former Ohio Secretary of State Ken Blackwell and former top Bachmann staffer Ed Brookover will lead the effort.
A call to Brookover was not immediately returned Friday. The former Bachmann consultant previously told the Washington Post's The Fix in an email exchange: "Michele Bachmann is a principled conservative with the policy prescriptions our country needs to pull out of its economic doldrums. ... We look forward to promoting her and her programs to the American public."
Citizens For A Working America was formed in 2010 by Norman Cummings, a long-time Republican strategist and Blackwell's former campaign manager. All the funds for the group came from a single $250,000 donation from an organization called New Models, a Virginia-based public opinion outfit run by Tim Crawford, the treasurer for Sarah Palin's Sarah PAC and a former Blackwell staffer.
The New Models contribution came with no identifying information about group. The organization is registered as a corporation in Virginia, but has been referred to in court papers as a nonprofit, despite not having registered as such with the Internal Revenue Service. New Models also has a bare-bones WordPress website with no "about" page.
Paul S. Ryan, of the Campaign Legal Center, a nonpartisan nonprofit monitoring campaign finance, explained that New Models' contribution highlights the problems facing campaign finance disclosure in the new era of super PACs.
Super PACs like Citizens For A Working America are independent political committees that can raise unlimited amounts of money from corporations, unions, and individuals so long as that money is spent on independent expenditures, such as advertisements and phone calls.
"Our current disclosure laws don't get at the disclosure of funds," said Ryan. "To some extent, that's a deficiency in our current disclosure laws that Congress needs to fix."
Ryan described groups like New Models that contribute, but do not disclose the source of their money, as "a Russian doll set of organizations."
According to Ryan, legal problems would arise from contributions made by these groups if "the corporate donor was really just solely used as a pass-through, and it was really just a contribution from a human made through the corporation."
The law clearly bars straw donations -- contributions made by one individual or organization in the name of another. The Campaign Legal Center has already filed requests for investigations into three potential straw donations this year.
New Models has been at the center of questionable political activities involving both Cummings and Crawford.
The LetOhioVote.org campaign, which was run by a group of Ohio political operatives that included Cummings, received a $1.55 million contribution from New Models in 2006 to oppose a proposal to allow slot machines in the state. That contribution led to an investigation by Ohio Secretary of State Jennifer Brunner that was only deterred by an Ohio Court's ruling that the Secretary of State and the Attorney General's offices could not subpoena donor records across state lines.
In its capacity as a public opinion outfit, New Models placed 32,000 controversial robocalls in Pennsylvania during the 2008 presidential campaign. Politico printed a full transcript of the calls at the time:
Barack Obama. His pastor preached God damn America. His aunt is living in America illegally. This illegal alien aunt is living in public housing. Barack Obama accepted illegal campaign contributions from his illegal alien aunt. Call Barack Obama at 202-224-2854 and tell him you are against illegal immigration. This message was paid for by NewModelsUSA.org and is not authorized by any candidate or candidate committee, 866-283-3421.
Crawford explained the robocalls to Politico as part of his opinion research: "The thought here was that illegal immigration -- no more than three months ago -- was a huge issue. The fact that his aunt is in the country illegally just seemed to dovetail -- let's talk about illegal immigration, and see if they call."
Cummings has also received criticism for his previous policial work. In September 2010, HuffPost's Sam Stein profiled Citizens For A Working America, then funded solely by New Models, and spoke with one person who had previously worked on an independent campaign with Cummings:
"I think the foulest thing he has done that I know about is the ad he tried to get me to run on behalf of the Ohio Taxpayers Association in the 1998 sales tax opposition campaign," said Scott Pullins, a conservative attorney in Columbus, Ohio who, as Ohio Director of the National Taxpayers Union worked closely with the Blackwell campaign. "It was a radio ad of two elderly, disabled African American female voters talking about the sales tax using what I can only describe as a racist, ghetto dialect. One of the ladies is quoted as saying that "she's gonna roll her wheelchair to the polls as fast as she can to vote against that tax increase."

"It was outrageously offensive and I told Norm Cummings to take the ad and the $25,000 and shove it. I told him it would have been less offensive for us to buy $25,000 worth of fried chicken and $5 bills and hand them out on MLK Drive in Cleveland. When I talked with Ken Blackwell's staff about it, they told me that he approved the ad and they saw nothing wrong with it. I told them if that was the case then Ken can put his name on it and not mine. As far as I know, the ad never ran."
Calling all HuffPost superfans!
Sign up for membership to become a founding member and help shape HuffPost's next chapter