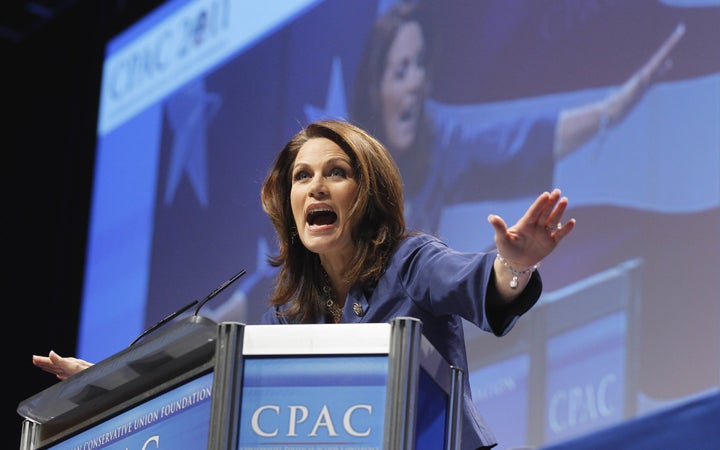 Rep. Michele Bachmann (R-Minn.) criticized the country's current tax code as "a weapon of mass destruction" in a speech she delivered Saturday night to local Republican activists in South Carolina, the Spartanburg Herald-Journal reports.
According to the local outlet, the Tea Party favorite called for the system to be abolished. "We need a radically different system," she stressed to a crowd of nearly 200 guests.
In speaking out on the state of the U.S. economy, Bachmann didn't hold back in taking aim at President Barack Obama's handling of the issue.
"Our Peace Prize-winning president is very busy bowing these days to kings," she reportedly said. "He is bending down to dictators, and he is brown-nosing the elites that are in Europe, and he's babying the jihadists who are following Sharia-compliant terrorism."
Sharing her take on how the White House has handled the recent uprisings in Egypt and Iran, Bachmann suggested, "[Obama's] making Jimmy Carter look like a Rambo tough-guy."
The conservative congresswoman's trip to South Carolina has led some to speculate she may be mulling a bid for the White House in 2012. Despite once denying a presidential campaign could be in her political future, the Republican lawmaker has more recently signaled a run may not be off the table.
"I'm hopeful and very optimistic about where we're going to go in 2012," Bachmann said at one stop on her trip, according to the Associated Press.
Bachmann has not decided if she will run for president in 2012. Her consideration is taking her to other early contest states including Iowa, New Hampshire and Nevada.

She drew applause when she defended the tea party activists, saying they are simply people who think taxes and the deficit are too high and support the U.S. Constitution.
Bachmann reportedly lauded South Carolina as a "GOP paradise."
REAL LIFE. REAL NEWS. REAL VOICES.
Help us tell more of the stories that matter from voices that too often remain unheard.