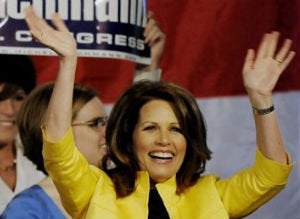 Rep. Michele Bachmann (R-Minn.) said on Monday that her proposal to create a Tea Party caucus in the United States House of Representatives has been officially approved.
Bachmann announced that she had filed paperwork to establish the House group last week. The mission of the coalition she said at the time would be to promote "fiscal responsibility, adherence to the Constitution, and limited government."
And now, it seems that Bachmann's Tea Party caucus dream has become a reality. "Just got word that the Committee on House Administration officially approved the House Tea Party Caucus," said the conservative congresswoman in a tweet on Monday afternoon.
Republican Conference Chairman Mike Pence became the first House member to signal his intention to join Bachmann's newly-created caucus. Talking Points Memo reports:
At a press availability this afternoon, Pence was enthusiastic. "You betcha," Pence said when asked if he'd join.
Bachmann last week sought to petition House Speaker Nancy Pelosi to support her cause. In a letter to the Democratic leader, the Tea Party darling wrote:
In conversations my staff had with the Committee, some concerns were voiced that this caucus may face roadblocks due to the perceived political nature of the label "Tea Party."

That is why I am writing to petition your support on this endeavor. As Members of Congress, we have an obligation to represent the views of our constituents, and this Caucus would do nothing more than promote the timeless principles of our founding, principles that all Members of Congress have sworn to uphold.
...
I encourage you to join me on this initiative, and hope we can work together to advance the enduring principles of our founding
Calling all HuffPost superfans!
Sign up for membership to become a founding member and help shape HuffPost's next chapter