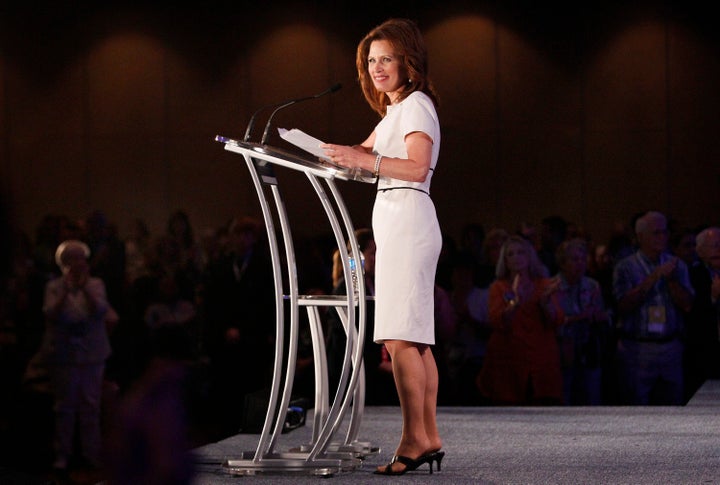 (Reuters) - Conservative firebrand Michele Bachmann will test the limits of how far a favorite of the Tea Party movement can go when she formally launches her campaign for the 2012 Republican presidential nomination on Monday.
The Minnesota congresswoman, who vows to cut spending, shrink the government and repeal President Barack Obama's 2010 healthcare overhaul law, may well pull the Republican campaign toward the right in her bid for an upset victory.
After months of flirting with a run, Bachmann, 55, enters the Republican campaign with an event in her hometown of Waterloo, Iowa. The Midwestern state holds the first contest on the road to her party's nomination for the right to challenge Obama in 2012.
Her strong performance at a New Hampshire debate two weeks ago has given her a boost and prompted Republicans to take a second look at Bachmann, who is a mother of five children on her own and has provided foster care for 23 others.
A Des Moines Register poll issued on Saturday of likely participants in the state's Republican presidential caucuses showed Bachmann in second place with 22 percent support, right behind former Massachusetts Governor Mitt Romney with 23 percent.
Bachmann said the poll matched her experience in Iowa.
"We had very strong support, enthusiasm wherever we went, and so this confirmed that," she told the CBS program "Face the Nation" in an interview broadcast on Sunday.
Interviewed on the "Fox News Sunday" program, Bachmann was confronted with what interviewer Chris Wallace called past verbal gaffes and misstatements of fact, and he asked her, "Are you a flake?"
"That would be insulting, to say something like that, because I'm a serious person," Bachmann responded, listing her achievements as a former tax lawyer with a post-doctorate degree in federal tax law, a state lawmaker and businesswoman.
Her rise is proof that the Tea Party conservative movement remains a potent force after helping Republicans win control of the House of Representatives in elections in November.
"The Tea Party was wildly successful because it was not personality driven," said Republican strategist Scott Reed. "Bachmann's challenge is to harness that energy and score an early state victory."
Bachmann will be vying with conservative rivals such as former Minnesota Governor Tim Pawlenty in Iowa, where social conservatives play a major role in Republican politics.
Her presence in the race could also dampen the chances that former Alaska Governor Sarah Palin will make a late entry into the campaign, since their messages resonate with the same conservative voters.
Unlike Palin, Bachmann holds public office and has a role in the Republican Party, as head of the Tea Party House caucus.
Bachmann's path to the nomination would have to include a victory or a high finish in Iowa's caucuses early next year, along with a strong result in South Carolina's primary.
New Hampshire's first-in-the-nation primary may be a tougher test for her, since Romney, who many consider the front-runner in the race, leads the polls there.
Bachmann's brand of conservatism has generated such proposed legislation as the Light Bulb Freedom of Choice Act that would prevent the government from requiring Americans to use energy-efficient light bulbs.
"The question for me is whether she can get any establishment support," said Republican strategist Matt Mackowiak. "We know she has Tea Party support. But the question is, can she gain credibility with the establishment, governors, senators, senior members of the party in and out of office."
Bachmann has rejected as "scare tactics" warnings of economic catastrophe if lawmakers don't approve raising the U.S. debt ceiling. On Sunday she struck a tough line on the debt debate, which is a focus of the Tea Party movement.
"I have no intention of voting to raise the debt ceiling because, right now, the federal government continues to spend more money than what it takes in," she told CBS.
"We need to seriously cut back on spending first and foremost, and then prioritize," Bachmann added.
(Additional reporting by Paul Eckert; Editing by Mohammad Zargham and Vicki Allen)
Popular in the Community