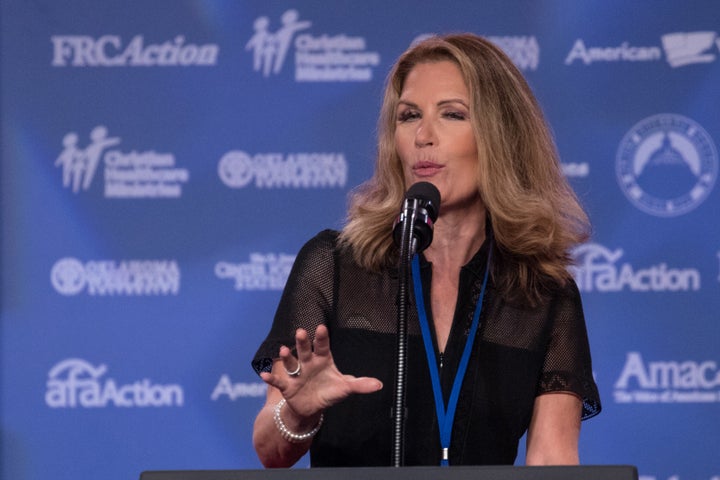 "We are in the golden time," proclaimed former Rep. Michele Bachmann (R-Minn.) in an interview at the Values Voter Summit over the weekend in Washington. "We don't want to blow this. We don't want to blow this!"
A member of President Donald Trump's Evangelical Advisory Board, Bachmann said she believes that due to Trump, "on every metric" America has experienced "blessings" that are "without parallel." In the interview at the annual conference of evangelicals organized by the anti-LGBTQ Family Research Council, she elaborated on her assertion.
"For men, for women, for young people, for blacks, for Hispanics, we've never had it better economically," she said. "We've never had it better on a foreign policy level. We've never had a more pro-life president, a more pro-Israel president."
Nor has there been a chief executive "who cares [more] about the religious liberty," Bachmann, a featured speaker at the values summit, said in the interview, which aired on SiriusXM Progress.
At the same gathering last year, Bachmann explained in an interview how Trump had become a "man of faith" who "asked God for help and for wisdom."
As Trump cultivated celebrityhood through coverage in tabloids and with his reality TV show "The Apprentice," he was never associated with any religious movement. But Bachmann, in her comments last year, said Vice President Mike Pence had assured her of Trump's religiosity.
The onetime GOP presidential candidate expanded on that subject this year, detailing her belief that God is working through Trump.
"He has so rocked everything he's done," she said of the president. "Everything he has touched has literally almost turned to gold on every level. People's lives are better because of this one man. And I think that can't be lost. We've seen an answer to our prayers from two years ago."
Attendees at this year's event seemed in full agreement.
A woman named Helen, who only wanted to give her first name and said she was an Armenian immigrant, was at the summit with her sister, also an immigrant.
"We 100% support President Trump," she said. "We are here because we are Christians and also because [we support] Trump. He is the best we've ever had."
A man named Kevin, who also didn't want to give his last name, described himself as in "complete and utter shock" that he came to fully support Trump. But he said he believed Trump has "honored God" and, like Bachmann, he now believes God is working through him.
How does Kevin explain God doing so when Trump in his actions and rhetoric has so often been offensive, misogynistic, racist and vulgar?
"God uses whom he will," he answered. "God will use someone to bring about his purposes in this world, regardless of whether that person, that man or woman, is a faithful person or not. So, when God does use someone to bring about his purposes in the history and in the timeline of civilization, God using someone is no measure or stamp of his approval on that person's moral or spiritual life."
Trump last year became the first sitting president to speak at the values summit. This year Pence represented the administration; he praised Trump for delivering on his policy promises to evangelicals and called embattled Supreme Court Justice nominee Brett Kavanaugh, who faces sexual assault allegations from two women, a "man of integrity."
Popular in the Community