Rep. Michele Bachmann (R-Minn.) criticized both President Barack Obama and Hillary Clinton for threatening to limit "the right to dissent from the American people," and expressed concern over the "silencing" of "any form of dissent to Islam."
Bachmann spoke out against those who "want to stop anyone in the world from saying anything negative about Islam" during an appearance on Jan Markell's radio show, according to Right Wing Watch:
Not just verbal speech, but written, a cartoon, a painting, whatever it is, if it is in any way construed as being against Islam that is where the confrontation comes from the Islamist world and they want to stop anyone in the world from saying anything negative about Islam. Which means there is only one free speech right and that would belong to the Islamists. Everyone else would lose their right of speech and expression.

The reason why this is important is because this is the whole game, it is game over if we who are in the non-Islamist world lose the right to criticize what the Islamist does, because the Islamist tries to advocate Islamic Sharia law and so anything that we would say in the future, once you criminalized anti-Islamic speech, anything that we would say that would be critical in any way of anything Islam does would be considered criminalized. That's why I say it is game over; the Islamists will have won everything. That's why they are willing to put ten years into achieving this objective of silencing any form of dissent to Islam.
Bachmann also expressed concern over Obama and Secretary Of State Hillary Clinton, noting she thinks the two could take "a big step" toward limiting freedom of speech.
"This is game over... the Founders made this the First Amendment because they understood this is our most sacred right, our right to speak, our right to practice our faith the way that we want to, the right to publish what we want to publish, the right to assemble and talk about whatever we want to talk about," Bachmann said. "That's freedom, that's the essence of freedom, that's the First Amendment, and that is what UN Resolution 16/18 which Hillary Clinton signed, presumably with the affirmation of President Obama, and that's the first step in a big step for taking away from you and me and all of your listeners our right of free speech... but even more importantly, it will empower the Islamist to use that against us."
Bachmann sparked controversy in July when she and Reps. Trent Franks (R-Ariz.), Louie Gohmert (R-Texas), Thomas Rooney (R-Fla.) and Lynn Westmoreland (R-Ga.) sent letters to five federal agencies demanding investigations into infiltration by the Muslim Brotherhood. Groups like the Anti-Defamation League condemned the letters, and Sen. John McCain (R-Ariz.) slammed the "ugly and unfortunate attacks."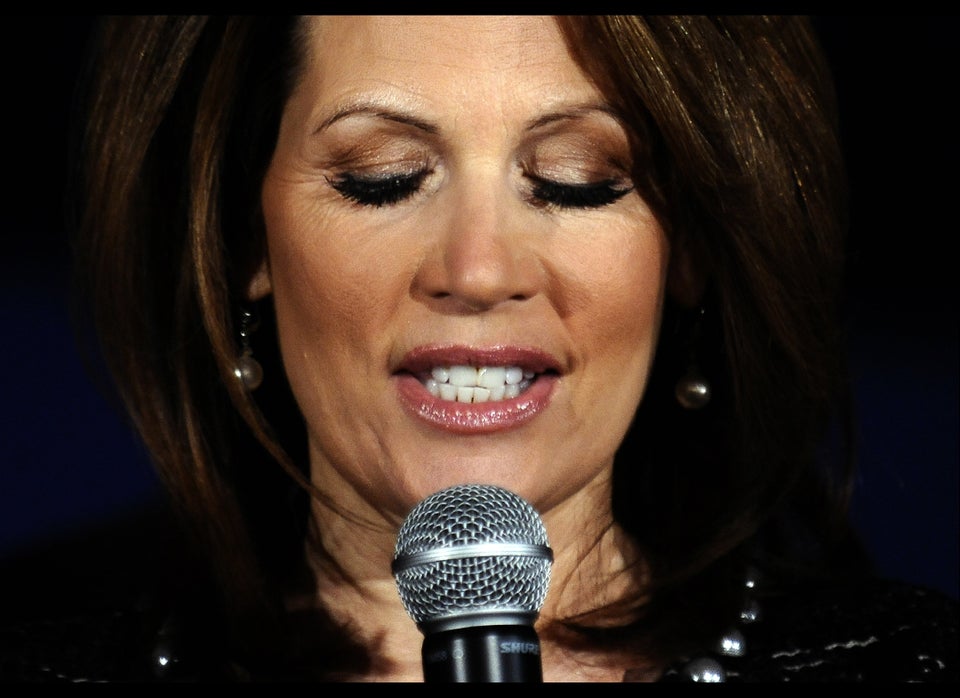 Unforgettable Bachmann Moments
Popular in the Community