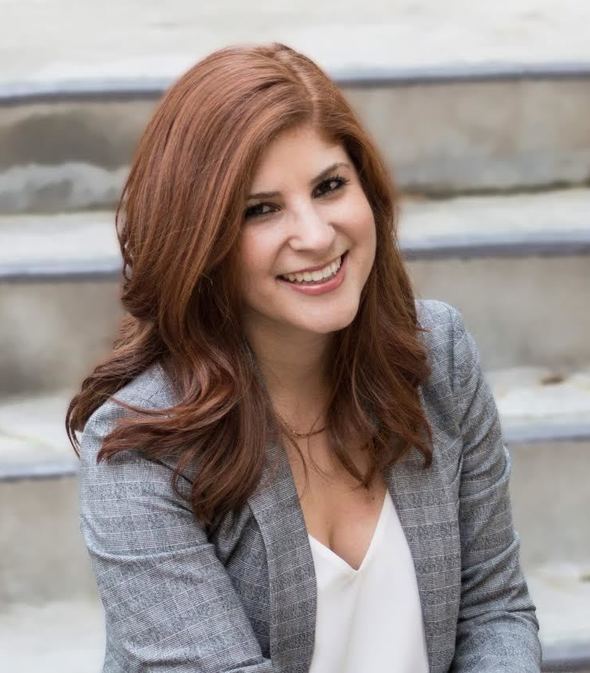 Both a writer and a stylist, Michele Lando is a freelancer and a writer who helps people get the jobs they desire. While a copywriter or a graphic designer make a business look attractive to consumers, Michelle makes job candidates look attractive and employable to employers.
I first discovered Michele on Instagram where her artfully done photographs, keen eye for aesthetics, and inspiring captions often catapult her posts to the Top Posts sections of hashtags related to writing and freelancing. As of this writing, she has over 9,000 followers.
In this interview, I asked Michelle what she does and how she made a full-time career out of her passions.
I help my clients get hired for the jobs they want. I write their resumes and cover letters so they look good on paper. And, I help them make a better personal impression by teaching them how to dress for the job they want, prepare for an interview, and communicate more effectively.
Ever since I was five or six years old, I knew that I wanted to be involved in fashion. I also liked writing. My grandfather wisely told me that I needed to learn the business side of whatever field I went into. When I was in college, I often helped write resumes for my friends who were trying to land jobs and internships. Luckily, I found a way to combine my love of clothing with my love of business by becoming a one-stop shop for those who want to advance in their careers.
During my years working at a recruiting company, I was astounded to encounter so many people who did not dress for their interviews as if they were applying to a job.Over the years, I realized that while it might be second nature to me, many people underestimate the importance of dressing for success. There is a great need in the market for people who can help others navigate the job search. In my day-to-day I try to help my clients succeed and make progress professionally.
What were you doing before and how did you become a full-time resume writer and career coach?
I was working as a retail sales stylist at Nordstrom, but I eventually decided that retail was not for me, so I got a job as a client relations manager at a small recruiting company. During this time, I worked with a lot of clients and many resumes crossed my desk. I started to realize that many people found resume-writing difficult and often struggled with their attempts to present themselves as an ideal job candidate.
Even though I used to do this to help friends in college, it wasn't until much later that I discovered I could get certified for this sort of work. Eventually, I got certified in resume writing and continued to help people with their resumes and professional appearances on the side while I worked elsewhere full-time.
I knew from the beginning that I was on the right path to building my own business and working for myself, but the timing had to be right. I wanted to make sure I had a steady client-base before quitting my day-job to do my own thing. In the meantime, for about a year and a half, I was writing resumes and providing career coaching on the side.
I worked all day at my job at the recruiting company and worked on my side-hustle at night. It was not always easy to juggle my side-hustle with a full-time job. Sometimes, I'd have to email clients while I was still at work. It was also difficult to find time to talk to clients on the phone and schedule meetings during times when both of us would be available, but I stayed in my old job, because I was not yet ready to give up the steady income it provided me. Eventually, when the freelance work became steady and I had the financial means to do so, I left my job working at the recruiting company and became a full-time freelancer.
Take me through a day in the life of Michelle Lando.
I work from home (although I don't always tell people). First, I get up early, shower, get dressed, and get ready for the day as if I am going out. It doesn't feel right to me to just roll out of bed and start working. Even as a freelancer, I try to stick to the same routine I had when I was working outside my home.
All freelancers have to figure out what works best for them. Personally, I never had a problem working from home, but others may find they work better in an office or a cafe. When it comes to working from home, the key to success and maintaining your sanity is periodically getting out and interacting with other people. In my job, I interact with people all day, so I never feel lonely or isolated working from home. I also make an effort to get out of house and go to the gym, grab lunch, or run a quick errand.
Every day, there are a number of projects to get done. I spend much of my time writing my clients' resumes and helping them draft cover letters. Since the work is time-sensitive, I guarantee all of my clients a 3-day turnaround time. The rest of my day usually involves answering emails, writing blog posts, and promoting my business on social media. I tend to draft most of my emails at night.
What is a tip you would share with anyone starting their own business?
Any good businessperson has to be able to connect with people. The human side of business cannot be dismissed. To be successful, you have to learn how to listen to people and work well with them. I find that many people just want somebody to talk to and make them feel heard.
Throughout the course of my day I often have to wear a variety of different hats -- career counselor, writer, therapist, and more. I usually talk to people who are in a transition period in their lives. Making them feel comfortable and helping them realize that they are not alone and that everyone struggles is actually a big part of my job.
Some people I've worked with are proactive and quick to act on my advice. They find a new job quickly and get back on their feet. But many others feel stuck or demoralized in a job they hate. Others were laid off and find it difficult to get back out there. It's important to connect with each person and understand their needs before you can help them.
How do you use social media to promote your business and attract new clients?
Besides my current client work, I also spend a lot of time marketing my business by publishing and sharing content. I update my blog regularly and write articles for publications as well. And, I always accompany my written pieces with my own photographs.
Having an online presence is so incredibly important for getting needed exposure. I have found Facebook and Instagram to be the most effective social media channels for promoting my business. And I often use Twitter to get my news and read up on what's going on in the world. Even though I'm a writer, I'm very visual and I enjoy taking photos, why I use Instagram as my primary marketing channel.
Writers can and absolutely should use Instagram to promote their published writing so long as the images are quality. I share images and mention my new blog posts in the captions. There is a link to my website in my Instagram bio, which earns clicks from approximately 30-50 people ever day.
I put a great deal of time and effort into optimizing my Instagram posts and writing content that I know my readers will be interested in. It's not like: 'This is what I ate for breakfast.' I always write and post, having in mind how I can be a solution to someone's problem, be of help, or answer a question.
In addition to promoting my brand online, I also speak publicly and deliver workshops on branding and resume-writing at universities. Unfortunately, students are not taught how to write resumes. I believe this is a huge flaw in the education system. All students should learn the basics, because they'll have to write resumes for their entire professional lives. To succeed, it's important to learn how to brand yourself correctly.
What would you advise someone who wants to start their own business, but feels afraid to take the leap?
Definitely go for it! You don't have to quit your job or do something dramatic right away. You just have to take the first step. Start doing something on the side. Start a blog. Work for free. Take an online course or attend networking events. Whatever you do, just start. It doesn't mean you have to quit your day-job. Just plant the seed. There no harm in trying. You will never regret it.
There are so many resources at our fingertips thanks to the Internet, which remain underutilized. Read, learn, and talk to people who are currently doing what it is you want to do. Connect with others who are trying to do it. If you look, you will find content and inspiration that will help you get where you want to be.
Going back to school is far from the only option now. People often get dejected, saying they wished they had studied something in school, but there is so much access to knowledge out there -- online courses, YouTube, blog posts, webinars. For example, I did my own website without the help of a developer. Simply by using Google to find resources, I taught myself how to code and optimize my website for search.
Eventually you do have to go all in, but you don't have to drop everything in the beginning to follow an idea and see where it takes you. People get nervous, because they think it's all or nothing. Explore options without quitting your job or putting your eggs in one basket. Nothing happens right away and there is no such thing as an overnight success. Take baby steps and have patience.
Are you an entrepreneur, side-hustler, or freelancer with an interesting story? Let's connect! Tweet me @ZevGotkin or DM me on Instagram @zevg1.
REAL LIFE. REAL NEWS. REAL VOICES.
Help us tell more of the stories that matter from voices that too often remain unheard.
This post was published on the now-closed HuffPost Contributor platform. Contributors control their own work and posted freely to our site. If you need to flag this entry as abusive,
send us an email
.