WASHINGTON -- The top official at the Drug Enforcement Administration struggled to explain her position on drug sentencing reforms that are backed by her bosses in the Obama administration during a House hearing Thursday.
In her first appearance before the House Judiciary Committee in over two years, DEA Administrator Michele Leonhart pivoted several times when asked whether she supported the Smarter Sentencing Act, which has been endorsed by Attorney General Eric Holder and is part of a broader effort to rein in the length of and use of mandatory minimum sentences in certain drug crimes.
Two Democrats in particular, Reps. Bobby Scott (Va.) and John Conyers (Mich.), questioned Leonhart on her opinion on rolling back the use of mandatory minimums for certain drug offenders, while Rep. Bob Goodlatte (R-Va.) suggested Leonhart's bosses in the Obama administration were putting pressure on the DEA head to support the official policy of the administration of which she is a part.
Watch Scott and Conyers question Leonhart in the video above.
Leonhart said the DEA "targets the baddest of the bad, the worst of the worst" and had trouble acknowledging a relatively simple fact: that mandatory minimums have regularly been used against low-level drug offenders even when federal judges disagreed with the sentences they were forced to impose.
"Sometimes the sentence is appropriate. Many times, it's just stupid," Scott told Leonhart at one point. "That's what the mandatory minimum requires the judge to do."
Yet Leonhart's answers to questions about mandatory minimums were different from the answers she gave during a Senate hearing earlier this year. Rather than simply touting the benefits of mandatory minimums in taking down drug networks, this time around Leonhart talked about balancing competing interests. She also emphasized that sentencing decisions were mostly in the hands of federal prosecutors in the Justice Department rather than determined by line DEA agents.
"I do believe that mandatory minimums have been very effective in our work over these many years, and we hope that we can maintain that tool. On the other hand, I am aware that there are a number of initiatives that are being supported by the attorney general to look at the bigger problem of prison overcrowding," Leonhart said.
"We support the attorney general's initiatives under Smart on Crime," Leonhart said later, in response to a question from Conyers.
"And that includes the reduction of mandatory minimums, which is part of the Smarter Sentencing Act?" Conyers asked.
"We support the initiatives forwarded by the attorney general," Leonhart responded. Conyers suggested there was "a certain contradiction between your response to this question and other comments that you've made here today before the committee."
Rep. Trey Gowdy (R-S.C.), a former federal prosecutor who worked drug cases, praised the work of the DEA and took the position that mandatory minimums were by and large properly imposed. He fought back at the suggestion that long mandatory minimums were imposed on people in a relationship with drug dealers.
"There's nobody serving time for simply being the boyfriend or the girlfriend of a drug dealer," Gowdy said.
But Scott pointed to the case of Stephanie George, whose sentence was commuted by President Barack Obama earlier this year. George was given a sentence of life without parole when she was 26, even though the federal judge in her case said her "role has basically been as a girlfriend and bag holder and money holder" in the conspiracy case involving her former boyfriend. Gowdy said he would read up on the case, but suggested that anyone with a good lawyer would have been able to avoid being unfairly sentenced.
In her prepared testimony on Thursday, Leonhart said the DEA supported additional research that "may lead to the development of new pharmaceuticals that may harness the therapeutic benefits of cannabinoids, while minimizing or eliminating the harmful side effects (including the 'high') produced by eating or smoking marijuana."
Before You Go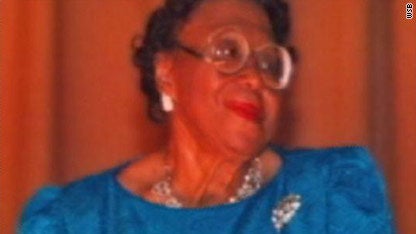 People Killed By The War On Drugs
Popular in the Community