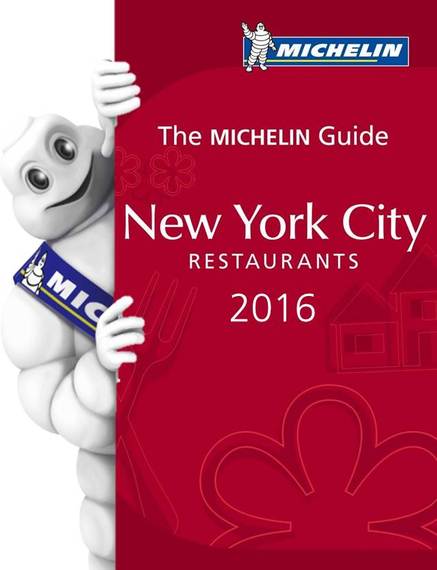 A total of 79 restaurants were awarded at least one Michelin star in this year's rankings of New York City's most impressive restaurants.
Chef's Table at Brooklyn Fare, Eleven Madison Park, Le Bernardin, Masa, Per Se, and Jean-Georges, the restaurants that scored the guide's most prestigious three star ranking last year, retained their star statuses.
The Modern scored two stars this year with new chef Abram Bissell helming the kitchen. The restaurant had previously received several one star rankings under the leadership of chef Gabriel Kreuther. Other two Michelin starred restaurants included: Aquavit, Atera, Blanca, Ichimura, Jungsik, Marea, Momofuku Ko, Soto and Daniel (whose ranking last year had fallen from three to two Michelin stars).
Newcomers Tempura Matsui, Sushi Yasuda, Cagen, Hirohisa, Somtum Der, Uncle Boons, Rebelle, Semilla and The Finch, all scored one star in this year's Michelin guide. Kreuther's self-named restaurant, Gabriel Kreuther, also scored a Michelin star.
See the full Michelin star list below:
Chef's Table at Brooklyn Fare
Eleven Madison Park
Le Bernardin
Masa
Per Se
Jean-Georges
Aquavit
Atera
Blanca
Daniel
Ichimura
Jungsik
Marea
The Modern
Momofuku Ko
Soto
Ai Fiori
Aldea
Andanada
Aureole
Babbo
Bâtard
Betony
Blue Hill
Bouley
The Breslin
Brushstroke
Café Boulud
Café China
Cagen
Carbone
Casa Enrique
Casa Mono
Caviar Russe
Delaware and Hudson
Del Posto
Dovetail
The Finch
Gabriel Kreuther
Gotham Bar and Grill
Gramercy Tavern
Hirohisa
Jewel Bake
Juni
Junoon
Kajitsu
Kyo Ya
La Vara
Luksus at Tørst
Meadowsweet
Minetta Tavern
The Musket Room
M. Wells Steakhouse
NoMad
Peter Luger
Picholine
Piora
Pok Pok Ny
Public
Rebelle
The River Cafe
Rosanjin
Semilla
Somtum Der
The Spotted Pig
Sushi Azabu
Sushi of Gari
Sushi Yasuda
Take Root
Telepan
Tempura Matsui
Tori Shin
Sulsi
Uncle Boons
Wallsé
ZZ's Clam Bar
Did your favorite restaurant make the cut? Leave your comments below.
Calling all HuffPost superfans!
Sign up for membership to become a founding member and help shape HuffPost's next chapter