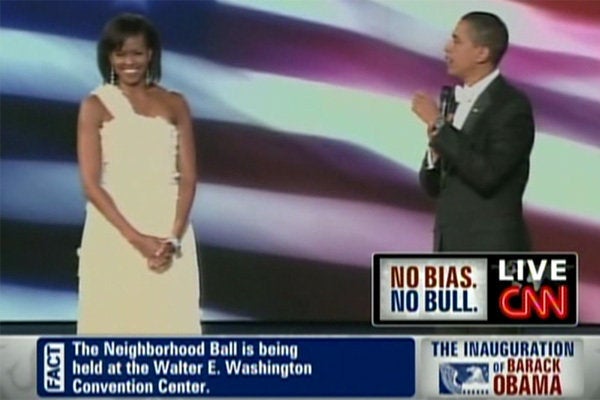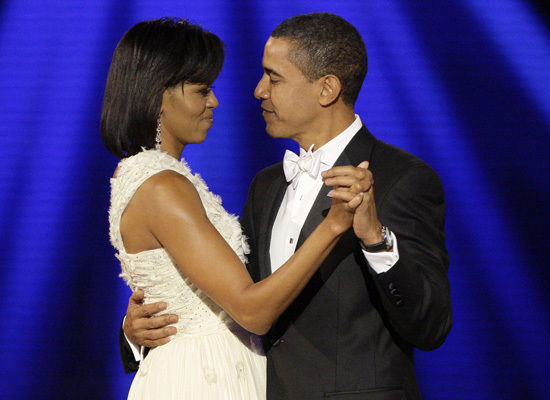 Wow! America didn't just swear in a president, the nation also elected
a pair of Lovebirds-in-Chief. On January 20th, we got married to the
Obamas for at least the next four years, and it looked like the Obamas
virtually renewed their vows in front of our eyes. Over the course of
the ten inaugural balls that the pair had to dash to and dance at, the
couple held hands, nuzzled, snuggled, and even kissed up a storm. At
one gala alone, Barack smooched Michelle at least four or five times
while holding her close in a dance. It was practically a presidential
makeout session.
To top it off, Michelle's Jason Wu confection of a gown was as
elegantly wedding cake-ish as a dress could be. The couple seemed to
be saying that the presidency was an all-important adventure that they
were embarking on together while renewing their own vows on a national
stage, after Barack made his own professional vow to the country
earlier in the day.
Perhaps it's because the contract between the president and our
country is so like a marriage that several first ladies have chosen a
white gown for inaugural ball night: Jackie Kennedy in Oleg Cassini,
Nancy Reagan in Galanos, and Laura Bush in Oscar de la Renta. Mary
Todd Lincoln also donned white on inaugural night.
Frankly, a lovey-dovey duo is just what we need right now, especially
when the affection appears completely real -- not the least bit fakey-fake. After all, the euphoria and the love fests that the country
feels right now for the Obamas is totally genuine, and, like all lovers,
we want to know that we can be truly, madly and deeply loved back. If
Obama can feel that way about his wife -- and his daughters -- then we know
he's capable of feeling that about us, too.
Here's the thing: a lot of us didn't feel that our last president
loved us very much. And in fact, he seemed awfully focused on himself,
not us. Whatever his private feelings for his wife, Laura, he never
performed such a public display of affection ever, let alone on the
night that would set the tone of his presidency.
I think last night's nookie -- on one level -- said a lot about how the
Obamas were a "real" and loving couple, and their romance and marriage
will be strengthened by the intellectual challenges which they will
face together.
On another level, it says our new president is a "sharer" -- he
unselfishly shared the limelight with Michelle. When he embraced her,
it made it easier to believe in his spoken commitment to leave behind
divisive partisanship in exchange for a new era of inclusiveness.
But boy, is he ever setting a high bar for husbands across the country, too!!
Follow more of Bonnie's reaction to the inauguration on Twitter.com