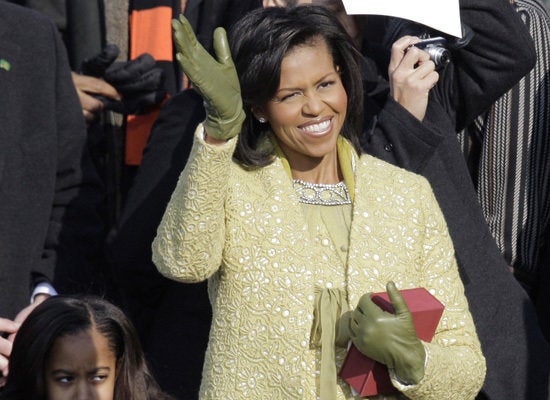 Up close, the First Lady's yellow Isabel Toledo sheath and matching jacket revealed an intricate wool guipure detail, a choice which reflected both her enviable confidence and her bold approach to fashion. From afar, as she walked Pennsylvania Avenue, her J. Crew green leather-gloved hands clasping her husband's, the outfit shimmered in the setting sun, effervescent as a glass of champagne. Photographs from this historic day will live on forever, and Michelle Obama, quickly becoming a legend in American history and an icon of style, wore an ensemble that only a tall woman could pull off.
I'm 5'10" tall. Michelle Obama has 3/4 of an inch on me. I don't know her dress size, but I like to imagine that we could raid one another's closests comfortably ("Michelle, I'll swap your gorgeous Thakoon frock for my functional Gap houndstooth trousers -- sound fair?"). When I met Michelle in 2004, a few hours after her husband's now legendary speech at the Democratic National Convention in Boston, we were eye-to-eye as she shook my hand, two women towering above the others, Jon Stewart barely coming up to our necks, and Dennis Kucinich barely hitting our waists. I wish I could say we spent the night laughing like old friends at the quirk that united us, but she had hundreds of hands to shake and I hadn't slept in 20 hours. However, I haven't forgotten how gracefully she carried herself, how confidently she shook my hand, and it's served as a reminder to me that where many tall women can feel awkward about their height, Michelle Obama embraces it.
Let me let you in on a little secret: we tall women, even the .00001% of us that turn out to be models (for no matter our weight or looks, tall women constantly hear "You should be a model!") go through gangly, lanky, clumsy, klutzy adolescences... and that's before we attempt to walk in heels. Usually, our feet are proportionately gigantic, which makes you feel even less feminine. Even in a Manolo, if you've got a size 12 foot, no stiletto offers the right balance. So you either live in kitten heels, envying the short women who saunter by in their size 4 outfits and 4" heels, or you shove your feet into gigantic, high-heeled shoes and grit your teeth in agony.
Being a tall women in college certainly has its perks. For instance, you can give your shorter girlfriend an early warning if the guy attempting to pick her up in a bar or biology class has a bald spot. And everyone mistakes you for a member of the volleyball or women's basketball team. When you graduate, however, you are presented with your two greatest challenges: surviving a mostly-male workplace, where your shorter male colleagues will tease you relentlessly in order to feel better about themselves, and finding a man with whom you can see eye to eye to eventually marry and have gigantic children with.
Michelle found her man -- (and by the way, Malia, who already comes up to her mother's shoulders, is only ten years old!) -- found her groove, found her style. She is elegant in her beauty, with brains to boot. And she is so comfortable in her own skin that she can make brave stylistic choices that border on controversial, both in the world of couture and in the world of tabloid magazines (as of 7:00 P.M. on Inauguration Night, as I write this, there are 309,000 Google matches for "Michelle Obama Inauguration Dress", and many are not so kind). That self-assurance is something many tall women--and women in general--take years to find.
When I purchased my wedding dress for my upcoming nuptials in May, I bought an off-the-rack gown that the boutique owner described as "a tall woman's dress" (which I won't describe in too great of detail, on the chance that my 6'4" fiance happens to be reading this). Truth be told, tall women don't look good in the gigantic Cinderella-style ball gowns; when there is so much of you, there's no need for so much taffeta and tulle. You are left with the silhouette styles, which although intimidating at first, accentuate your femininity and help wash away the memories of standing in the back row in class photos, or being taller than the majority of your boyfriends, or being asked to grab a pair of jeans off the top shelf at the Gap for a much shorter woman.
While watching the Inaugural Parade streaming over the internet, a coworker commented to me, "Michelle Obama has no rhythm," as the First Lady clapped and swayed to the marching band's beat.
After abandoning my initial defense of there being a time delay between the sound and visual that only made it seem as though Michelle was not moving in time to the music, I cried defensively, "It's so hard for tall women to dance! And in heels! Do you have any idea how hard that is?"
My colleague might not, but Michelle Obama knows how hard it is. And you know what? She dances anyway, and I love her for that.