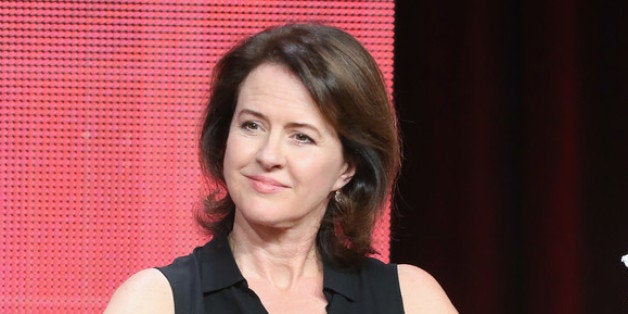 What does it take to get to the top -- without losing your center? Our "Making It Work" series profiles successful, dynamic women who are standouts in their fields, peeling back the "hows" of their work and their life, taking away lessons we can all apply to our own.
Michelle Ashford, an Emmy-nominated writer for the HBO miniseries "The Pacific," does not consider herself successful -- at least not according to her definition: "having felt that what you did mattered, that it had meaning."
"I think my children matter, and they have great meaning. And I have fantastic friends, and I think that has meaning," Ashford explains. "But in terms of my career, I don't think that I'm there yet, no. But I have my eye on that."
Why do you do the work you do?
What I love so much about writing is it's like you're a perpetual student. You have 30 books on your desk, and it's like going back to school. For example, I didn't really know anything about Masters and Johnson, just vaguely, and then I read Thom Maier's biography and I thought,"Wow, what a fascinating world." So now I'm immersed in that. It's like traveling without having to leave your desk.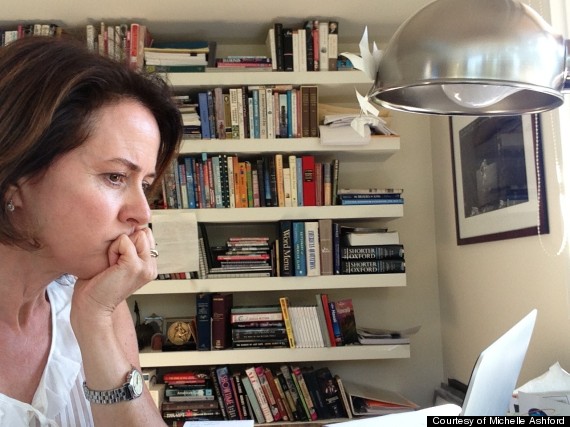 Ashford working in her home office.
Did you end up in this profession by design or by accident?
It was not always the plan. I was an economics major, and I had vague notions of "maybe I'll be a lawyer," "maybe I'll be a businesswoman." It was basically me floating around with no direction. Then my last year of college, I took an elective television class, and I made a documentary on hospice care. I thought, "Well, this is so much more fun than economics." So I decided I would come to LA. I had no contacts and I had every horrible job imaginable for a long time. And then the people who kept sort of pulling me along with them were people in television. But I had no idea if I could write so I finally quit doing all these assistant jobs, and I tried to write a script.
When you say you had "every horrible job imaginable," are you talking about the assistant jobs?
I was a page at Channel 5 in Los Angeles, KTLA, where you wore a polyester uniform and sat live audiences for shows. I was paid like $80 every two weeks. Then I was a receptionist. Then I was a PA and had to get everyone lunch. So it was all jobs within the industry, but they were the most bottom-level, menial jobs. But in the process of doing these jobs, I would meet people. I would say, "Please, if you go to another job, will you take me?" And they often would. So that was how I slowly got to understand how the TV business works.
Do women have a responsibility to help other women at work?
It's a very curious thing, the idea of looking at what I do and separating it by sex. When I first started, I was on the staffs of shows where I was the only girl and yet I didn't ever have the feeling of being held back or marginalized because I was a female. I know other people have felt that. I haven't. That being said, I don't know that I need to make it a mission to cultivate women because they're women, but I do look for really talented women and try to bring them onboard. This is what happens with hiring minority writers as well. When you're doing my job, you have to hire the best writers, period. However, when you do find someone that's really talented that's a woman or some kind of minority, then it's thrilling to plant your flag and say, "This is my person." Oddly enough, on "Masters of Sex," three of our episodes were directed by women, our staff was half women, my producing partner is a woman. A lot of the people that have interviewed us say, "Wow, this whole show is run by women." We look at each other and think, "We didn't design it that way." And that's actually pretty great.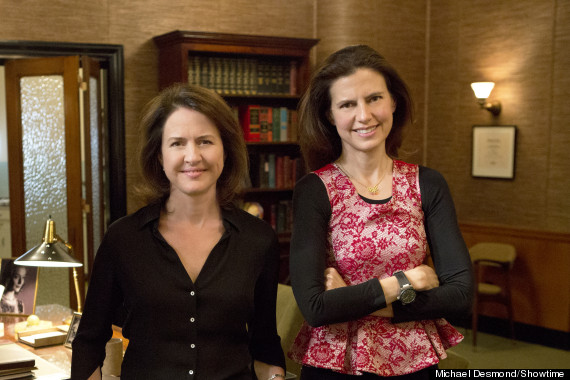 Ashford with "Masters of Sex" co-executive producer Sarah Timberman.
Do you have a work persona and a non-work persona?
I'm in charge of a lot of people, so when I go to work, I feel the responsibility to be bit of a cheerleader and to keep everything on track so it's a very extroverted personality that needs to show up and do my job. But the truth is at heart I'm a writer, and that is an incredibly introverted sort of character. I think I'm an introvert that has to act like an extrovert a lot.
Are you close friends with anyone you work with or have worked with in the past?
Yes, very close. Everyone I've ever been with romantically, I met through work. Some of my very, very best friends I met through work. One of the nice things about being on television shows is you are thrown in with people in such an intimate and time-intensive way that you get to know them really well.
Did you meet your husband, Greg Walker, working on a show?
I was his boss actually, although I was very well behaved. I had a previous husband, and I met him through work.
And you have kids?
I have two kids, 9 and 11. It was a lucky coincidence that I happened to pick a career -- or a career picked me -- that was actually conducive to having children. Had I been a lawyer, I don't know how I would have done it. The thing about writing is I could write at home. I never stopped working when I had kids at all.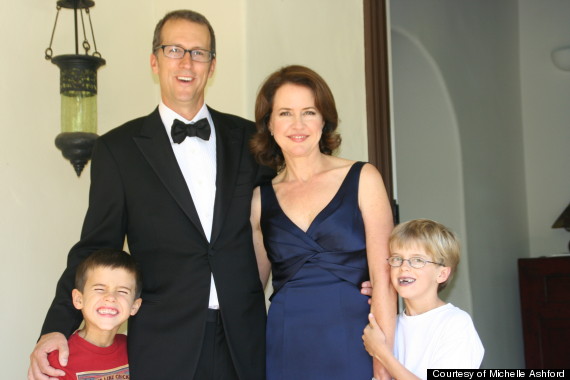 Ashford with husband Greg Walker and sons Ben and Sam before the Emmys.
Have you ever been in the situation where the big meeting at work coincided with the school play or something else involving your kids?
Yes. I decide to go with whatever involves my kids. I work with a lot of people who have kids, and they get it. And I have not found anybody saying, "This is a dealbreaker." So I just stick with that.
What's the distribution of work like in your household?
I'm much more in charge of everything that goes on in our household, although he'll make lunches or he'll take the kids to school if I can't. I still think that women do much more of that than men. Luckily, my husband is a great cook. In terms of cleaning up the mess, it's always me.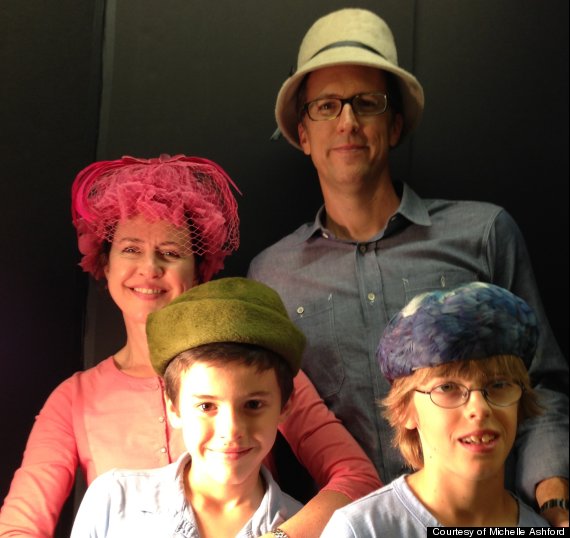 Ashford with her family in the costume department of "Masters of Sex."
Did your mother work?
My mother died about five years ago. When I was growing up, she was a stay-at-home mom. She was a good cook, and she helped us with homework and took us to our music lessons, and she was very present. When we went to college, she got a job working at the Claremont colleges in development.
Did she understand why you work the way you do?
I think my mother was secretly very pleased that I worked and slightly envious. My mother was very smart, an incredible reader, and I think there was a part of her that thought, "The fact that all I've done is just raise children is not entirely satisfying." She was really happy that she raised three kids, but I think part of her felt a little bit restless.
Tell me about an average workday vs. a great workday.
An average workday is one with a million distractions. I'm running around and forget to eat and look up and go, "Oh my god, it's 5:30 already and this day is not even two-thirds over." That's sort of an average day, which is not bad, but feels exhausting and fragmented. A great day for me is a really good writing day, which is just being quiet in my office and getting a lot done and feeling really pleased by what I've written.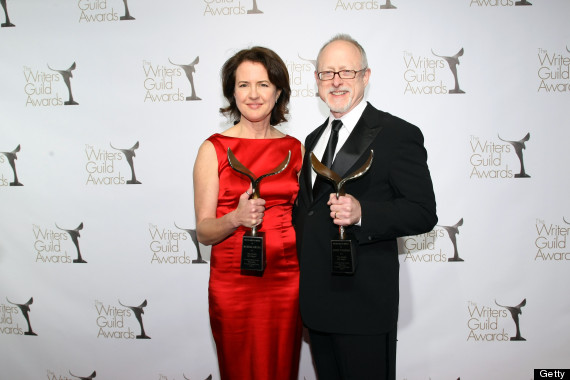 Ashford with "The Pacific" co-producer Robert Schenkkan at the 2011 Writers Guild Awards.
When was the most recent time you thought about quitting your job?
Oh, I think about quitting it all the time. I do love writing, but writing is different from engaging in the business part of what we do. I get very fatigued with what the marketplace is saying is good material and what is not. I have this fantasy that someday I'll never have to read Deadline again.
Do you keep your phone next to your bed?
No. I detest my cell phone and forget it about half the day. I understand the need for cell phones, but I think they're pernicious and I think the idea of being glued to your phone is awful. I still have a landline and I will keep it till the day that I die.
Is your to-do list electronic or paper?
Paper. I still have an address book that's handwritten. I don't even have people's contacts in my computer. That's how prehistoric I am.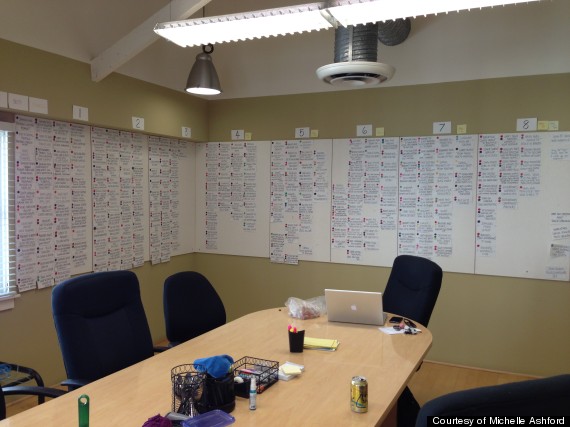 The writers' room of "Masters of Sex. Each card represents a scene.
Do you get enough sleep?
No, but it's not because I'm staying up so late. The problem is I have a lot on my mind, and I find that I wake up. So I have a little secret life in the middle of the night, where I sometimes read or just think about what I'm working on. Many times I've gotten up and worked. I try not to do that too much because sometimes if you get going, then you've been up since 3. I find actually the thinking in the middle of the night can be incredibly helpful for what you have to do the next day. I've actually solved a lot of story problems, so while it's annoying, maybe it happens to me for a reason.
Do you get enough exercise?
I try to at least get to a gym twice a week. I try to go for a walk other times. I don't get enough exercise, but I don't see how I can fit any more in than I already am.
Are you paid what you're worth?
That's a very tricky question because people in the entertainment business tend to be paid a lot, and if you compare what I do to a woman exactly my age who is teaching in a public school and trying her damnedest to give kids the best shot at a good life, no, I'm overpaid. She should be taking some of my money. But it is what the market will bear, and so I don't send my checks back and I'm grateful for them. And when you're in the thick of it, you think, "My god, they should double my salary." But in the bigger picture, I think people in entertainment and sports are overpaid.
What would you title your autobiography?
"She Tried."
Is there a woman you know of who is Making It Work? We'd love to include her in our series. Send your suggestions to women@huffingtonpost.com.
This interview has been edited and condensed.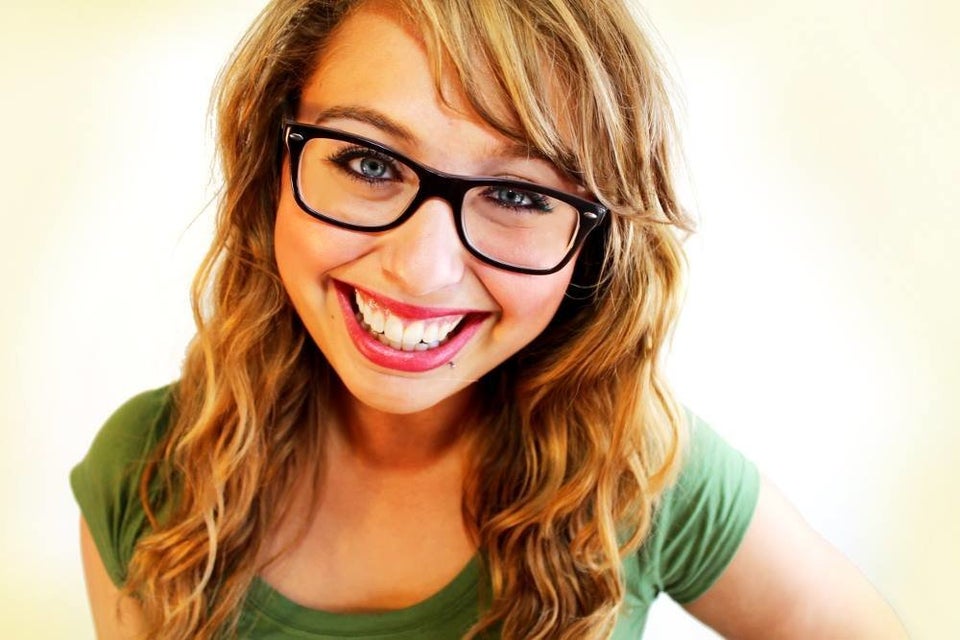 How Amazing Women Are "Making It Work"
Popular in the Community