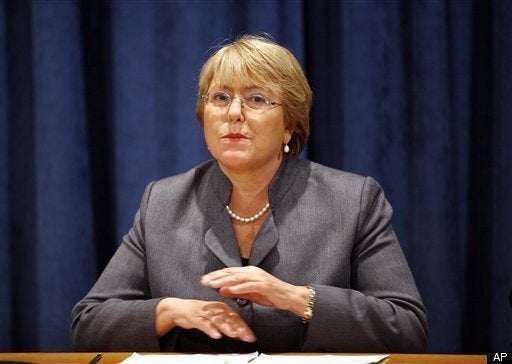 U.N. undersecretary Michelle Bachelet wasn't on the recently released Time 100 Most Influential People of 2012, but she's certainly on my list of the most influential people in the world. For those of you who don't know her, Bachelet is the first Executive Director of U.N. Women, and in that position she leads the U.N.'s work to advocate for gender equality and the empowerment of women, and also to advocate that the U.N.'s resources are used to meet these critical goals.
Bachelet has perfect pitch for the job -- she is the former president of Chile (2006-2010) as well as the country's minister of health and first woman minister of defense. She is also the first woman in the Americas to serve as Minister of Defense. (Bachelet credits her time in that role, and the credibility it gave her, as one of reasons that she was seriously considered as a presidential candidate in Chile.)
She also brings her life experience to the position. Bachelet is a mother, a pediatrician and epidemiologist by training, and someone who has experienced first-hand the impact of war and upheaval. Bachelet lived in Chile during the coup that brought General Augusto Pinochet to power. Bachelet's father, a general and supporter of President Salvador Allende, refused exile, was tortured extensively and died in prison. Bachelet and her mother then worked to organize resistance to Pinchot. They were captured and tortured, and later exiled. In 1979, she was given permission to return to Chile and she became politically active in the fight to re-establish democracy. These are experiences that give Bachelet the background to understand to challenges faced by many women and men around the world in countries devastated by war and conflict.
While in Washington, D.C. for World Bank meetings, Bachelet took time to speak to the Women's Foreign Policy Group. She focused on two key areas where there is still a lot of work to do to make progress for women: economic and political empowerment. She talked about why we need more women in office and the difference women make in policy and democratic governance, with a specific eye towards how women legislators and world leaders look at issues differently than their male colleagues. As Bachelet reminded us, research shows that as more women serve in office, there is an increased focus on issues traditionally seen as women's issues (education, health care) but also on issues that affect women's daily lives, such as water and infrastructure.
She was pointed is her analysis of the Arab Spring and its impact on women. As she said, the revolutions across North Africa and Yemen have created greater opportunities for equality, but that the growing backlash means that women must continue to struggle for an equal place at the table. She pointed out the lack of economic opportunities in the Arab Spring countries for women and the need to provide those opportunities as well as a place at the decision making table. Following on her New York Times op-ed regarding women in Afghanistan, she was clear that the international community must not bargain away women's rights.
Bachelet was clear that "there is no vaccine" for gender inequality, and that both role models and language are important as we work to shape a new reality for women and girls worldwide. She was also pointed in her comments about the need for us to work for progress in all countries -- not just those we assume treat women unequally -- and create urgency around women's inclusion across the globe. When asked about the most urgent issues facing women, she wove together political empowerment, economic empowerment, health, education and a sustainable environment, and answered that we need to look at solutions to all of our challenges in more integrated manner.
Yes, Bachelet is a trailblazer, and yes, she holds a position with tremendous influence. But those aren't the reasons she tops my list of influential people in the world. She tops my list because she brings her life experience, political savvy and no-nonsense approach to overcoming challenges for women and their families. It's the kind of straight talk that we all need to hear so that we are looking for solutions that can work for everyone, and work in a sustained way over time.
Related
Popular in the Community