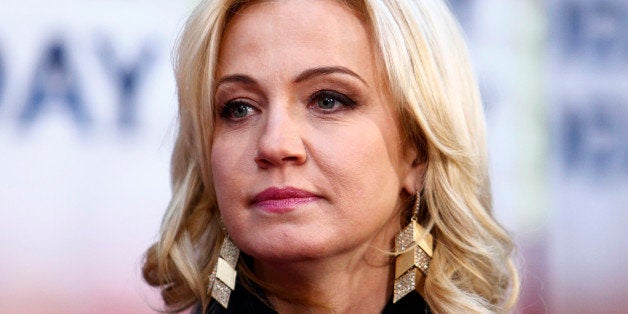 Michelle Beadle's daily sports show "The Crossover" has been canceled by NBC Sports Network after less than eight months on the air. The low-rated 30-minute sports and entertainment show was axed to make room for expanding NFL coverage and upcoming NHL programming, as first reported by Richard Sandomir of The New York Times on Wednesday.
Beadle subsequently confirmed that the show had been canceled -- or that it was "donzo" -- via Twitter. Beadle's reaction to the news was a prime example of the candor that landed her on Sports Illustrated's Twitter 100.
The versatile NBC personality seemed to take the news with a glass half-full attitude, in more ways than one.
Beadle left ESPN in 2012 to pursue opportunities covering sports and entertainment with NBC. While she will likely be kept busy with her various other duties at NBC, the cancellation is not a positive sign for the development NBCSN's original programming.
"It's a discouraging sign for NBCSN that their studio shows can't get on track and attract viewers, but live sports rules all," wrote Matt Yoder of Awful Announcing. "It appears that NBCSN may try more pre and postgame NHL coverage and invest more in the NFL in place of The Crossover."
The demise of "The Crossover" seemed to expose the rift between Beadle and former co-host Dave Briggs, who was shuffled off the program in May. Briggs, who currently co-hosts "SportsDash" on NBCSN, dubbed a tweet mocking Beadle on Wednesday evening as "classic." Again showing why she has earned "must follow" status on Twitter, Beadle shared a screen grab of the exchange and added some commentary of her own.
REAL LIFE. REAL NEWS. REAL VOICES.
Help us tell more of the stories that matter from voices that too often remain unheard.
BEFORE YOU GO
PHOTO GALLERY
Best 2013 Sports Photos