 **SCROLL FOR MICHELLE MCGEE PHOTOS**
Did Sandra Bullock's husband cheat on her or is a tattoo model trying to drum up some publicity - or both?
Michelle "Bombshell" McGee claims she slept with Jesse James for about eleven months, and provides intimate details like his endowment and penchant for not wearing underwear, which has landed the allegations on the cover of In Touch magazine. The magazine trumpets their exclusive, and the press release about the story is below. Some photos of her from her website are also below.
When Sandra Bullock thanked her bad-boy husband, Jesse James, as she accepted her best actress Oscar for The Blind Side, she may not have known that while she was away shooting the film, Jesse was carrying on a steamy affair with a tattoo model. While Jesse has had an 11-month affair, including five weeks of sex, with Michelle "Bombshell" McGee, she believed he and Sandra were no longer together. "I would never have hooked up with him if I thought he was a married man," Michelle tells In Touch in an exclusive interview. "He gave me the impression they were separated." For weeks, while Sandra was in Atlanta shooting The Blind Side, Michelle had sex at least once a week with the Monster Garage star. Far from a one-night stand, his relationship with Michelle was intimate and highly charged. Michelle even says she called Jesse, who didn't wear underwear or condoms, by a special pet name, Vanilla Gorilla, because he was so "well-endowed."

While Jesse was in Atlanta with Sandra when she started to film The Blind Side, Michelle sent West Coast Choppers a friend request because she hoped to snag a modeling gig there. She was surprised that it was actually Jesse who wrote back to her and told her to e-mail him at his personal e-mail. From the start, Jesse wanted to meet Michelle, and it was never about business: "He started saying, 'Do you want to hang out?'" So a week after he got in touch, Michelle drove two hours from her San Diego home to West Coast Choppers in LA. "I got there around 9 at night," remembers Michelle, who was starstruck at first. "I was like, 'Holy s**t. It's really Jesse James.'" After taking Michelle on a tour of his garage, Jesse brought her into his office and locked the door. "We ended up on the couch," she says. "He wanted to watch movies, but I asked him, 'What's going on with you and Sandra?'" Jesse was evasive. "He said, 'She doesn't live here. She has a house in Austin. She is filming, and I can't talk about it.'" Assuming he and Sandra were separated, Michelle continued talking to Jesse, she says, and then, "We had intimate relations." Michelle says she and Jesse had sex "two or three times," that night -- and began what she believed was a serious relationship, texting each other several times a day, and meeting up for sex at least twice a week for the next five weeks.
Michelle "Bombshell" McGee photos: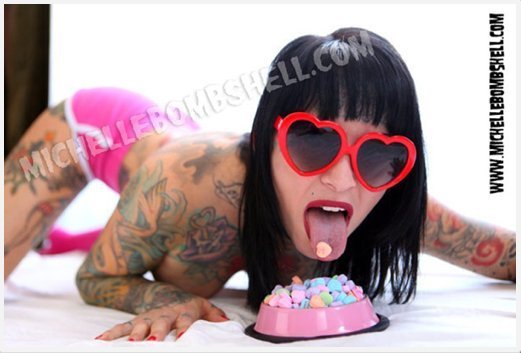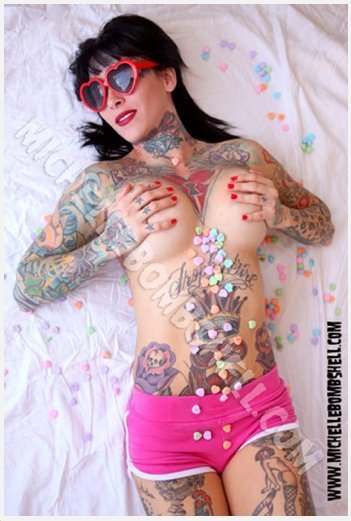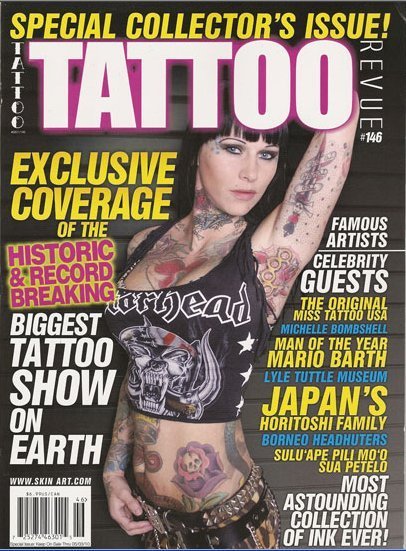 Popular in the Community