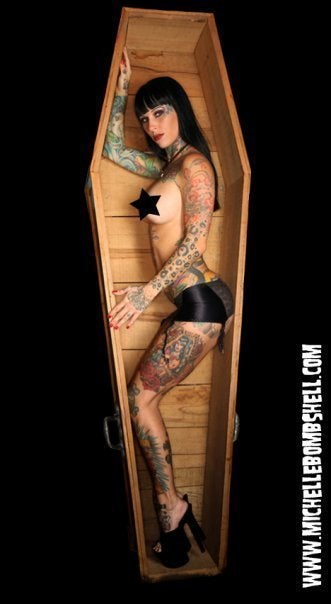 Michelle 'Bombshell' McGee has broken her 9-day silence since selling her story to In Touch about having sex with Jesse James.
On her Twitter and Facebook pages, as seen in screen grabs below, McGee has lashed out at the internet haters.
Late Thursday night McGee wrote:
For all you internet warriors on here talking shit...it's easy to place judgement when your sitting behind a keyboard. Get off your God dam high horse, your shit don't smell like roses either. Let him who is without sin cast the first stone...in other words FUCK YOU
She also Tweeted, from her "Evil Cunt" handle, and Facebooked her thoughts on being dropped from a modeling gig.
Funny how Angry White Boy clothing rode my coat tail 'til he realized he'd profit more by "dropping" me.

Jake Hollywood, it doesnt surprise me your trying to get some publicity off of me, the fact is, you're a broke 28 year old boy living in ur friends parents house without a dime to ur name...keep sittting online all day worshipping travis barker...your life speaks for itself..your just a loser. :)

The Facebook:


The Twitter: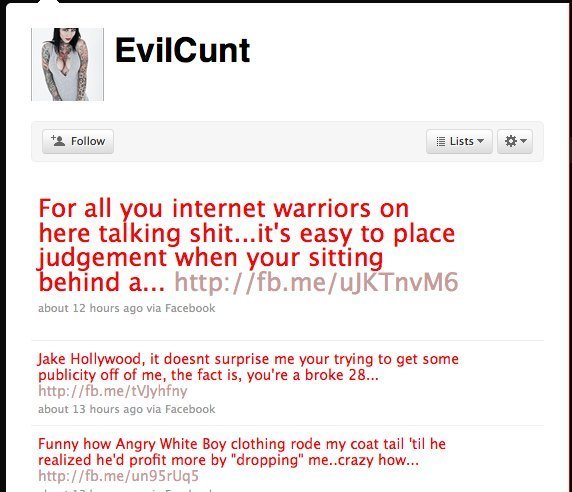 Calling all HuffPost superfans!
Sign up for membership to become a founding member and help shape HuffPost's next chapter