Michelle Carter, the young woman found guilty of involuntary manslaughter after she coerced her boyfriend into killing himself, was sentenced to two and a half years in prison on Thursday.
Carter, 20, faced up to 20 years in prison for her actions. The prosecutor in the case recommended that Carter be sentenced to between seven and 12 years in prison. Carter's attorney requested that she be sentenced to five years of probation.
Bristol County Juvenile Court Judge Lawrence Moniz said Carter must serve 15 months of her sentence behind bars, with the rest of it suspended until August 2022. Carter is also prohibited from profiting off the events in this case.
The decision was handed down at Massachusetts' Taunton District Courthouse. Carter was found guilty in June of the 2014 death of her boyfriend, 18-year-old Conrad Roy, who took his own life by running a generator in his truck as he sat in a parking lot in Fairhaven, Massachusetts. A coroner ruled he died of carbon monoxide poisoning.
Carter, then 17, was implicated in Roy's death by a series of phone calls and text messages she sent him shortly before he killed himself. In her messages, she instructed Roy to get back into the car after he was first overwhelmed by the fumes. "No more pushing it off. No more waiting," one of the texts read.
Carter's communications with Roy took place while they were 30 miles apart.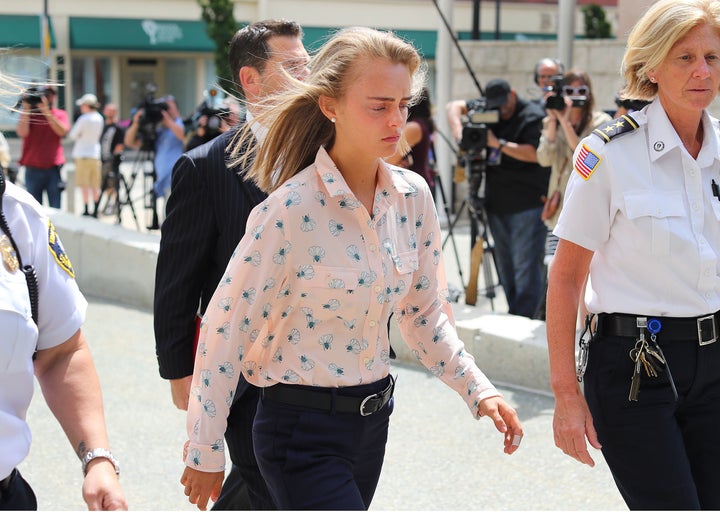 "Michelle Carter exploited my son's weaknesses and used him as a pawn in her own well-being," Roy's father, also named Conrad Roy, read in a statement to the court before Carter's sentencing. "She has not shown any remorse."
Carter's attorney reiterated that she suffered from her own psychological issues, including depression and eating disorders, and had spent time receiving in-patient treatment for them.
Both the prosecutor and Moniz expressed doubt about whether Carter's personal struggles influenced her actions.

"Instructing Mr. Roy to get back in the truck constituted wanton and reckless conduct by Ms. Carter, creating a situation where there is a high degree of likelihood that substantial harm will result to Mr. Roy," Moniz told the court at the verdict hearing June 16. Moniz decided the case after Carter opted not to have a jury trial.
Some legal experts expected Moniz to give her a light sentence.
"There's a substantial body of neuroscience that talks about the judgment of 17- and 18-year-olds, that suggests that whoever they are at this point is very different than who they are later on," Nancy Gertner, a retired federal judge, told NBC News on Wednesday. She expected a sentence that would reflect the small likelihood that Carter would repeat her actions.
Related
Popular in the Community