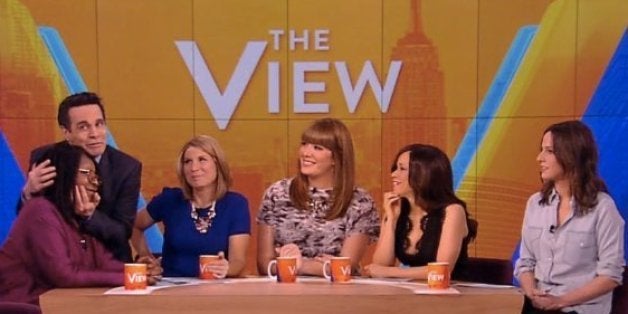 The women of "The View" have a new co-host.
Comedian Michelle Collins was named the newest addition to the cast during Monday's broadcast. She'll be the 15th host in the show's history.
"I am so excited and I feel so lucky that I get to come here and spend this time with you," Collins, 33, said on air.
Collins has in the past been a guest host on the program and is scheduled to make regular appearances until the show goes on hiatus next month. In May, veteran host Whoopi Goldberg went to bat for Collins and actress Raven-Symoné, who at the time had not yet been made a full-time host.
"We love saying it, but Raven and Michelle will be back tomorrow," Goldberg said at the time, and asked viewers to show their support for a lasting change. "We're trying to make it permanent, so write in to everybody."
Collins, who previously edited the TV and pop culture website Best Week Ever, has also appeared frequently on Kathy Griffin's talk show and various VH1 countdown shows.
When the show's 19th season kicks off in September, Collins will join Goldberg, Raven-Symoné and Republican commentator Nicolle Wallace. A source told People it's possible "Full House" actress Candace Cameron Bure and former "What Not To Wear" host Stacy London may also sign on as new co-hosts.
Popular in the Community