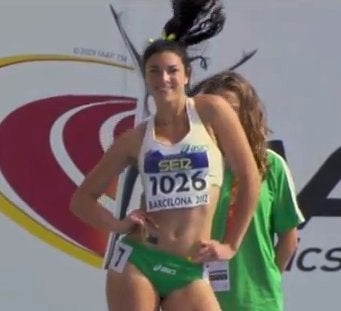 Youth Olympian and 19-year-old Australian hurdler Michelle Jenneke won the hearts of the Internet this summer after a video of her sexy warmups went viral. Now that she's arrived in Los Angeles, the athlete behind the meme also proved bust a move to the Internet's other favorite dances.
We've got "Gangnam Style," Beyonce's "Single Ladies," Soulja Boy's "Crank Dat" and, of course, The Dougie! Can Flula teach Michelle how to master all of these?
The youth Olympian also takes the time to chat about the story behind routine that made her famous, her track and field experience, and her volunteer efforts in Tanzania.
Currently, the video that sparked this whole trend has over 19 million views, but no one -- not even the athlete herself -- could've predicted this kind of recognition. Michelle reveals that a friend first brought the video to her attention when it first blew up on Reddit and had roughly 60,000 views. "You never expect something like that to happen," she adds.
It's especially surprising because Michelle's breaking out her little dance at ever major race since 2009. "Everyone in the track and field community sort of knows me for it and they all think it's really funny," she says.
In the above segment, Michelle explains the true physical merit of the warmup, but obviously, the Internet found other uses for it -- editing it into slow motion and layering in some humorous music. "I think it's kind of funny that people take it as a sexy dance," Michelle says. "It's not intended as a sexy dance. It's just my warmup!"
For all of your YouTube exclusives and interviews with today's hottest celebrities innovating online, subscribe to What's Trending and join us LIVE every weekday at noon pt/3 pm est on YouTube.
REAL LIFE. REAL NEWS. REAL VOICES.
Help us tell more of the stories that matter from voices that too often remain unheard.