So much for letting freedom ring.
An Air Force veteran and former Playboy model was caught on video wrestling with police and protesters over an American flag that she thought was mistreated on a Georgia college campus on Friday.
As part of their protest against racial inequality, some students stamped on the American flag, but Manhart took offense to their treatment of Old Glory.
"This belongs to the entire United States," Manhart says in a video of the ugly incident, which she later posted to Facebook and YouTube. She showed up, she claimed, because a student called and told her the flag was being defaced.
Campus cops and protesters, however, thought Manhart was out of line. Valdosta State officers, in the video, intervene and try getting back the Stars and Strips from Manhart, as she exchanges heated words with the protesters.
"You enslaved our people," one of the demonstrators says. "You put us in this white supremacist place. And you're stealing our flag now."
Several officers tackle Manhart to the ground as they scuffle for control of the flag. One cop tells her, "That flag does not belong to you." In the end, it was returned to the protesters.
Manhart wasn't charged, but she's been barred from campus activities. She said she'll host her own demonstration to decry the defacing of the star-spangled banner.
"I was just going over there to pick up the flag off the ground. I don't know what their cause is, but I went to pick it up because it doesn't deserve to be on the ground," she told the Valdosta Daily Times. "The bald eagle is a symbol of our country, and back in the 80s it was put on the endangered species list. You can't touch that bird. It's illegal. If we can do that with a bird, why can't we place that same value on the flag."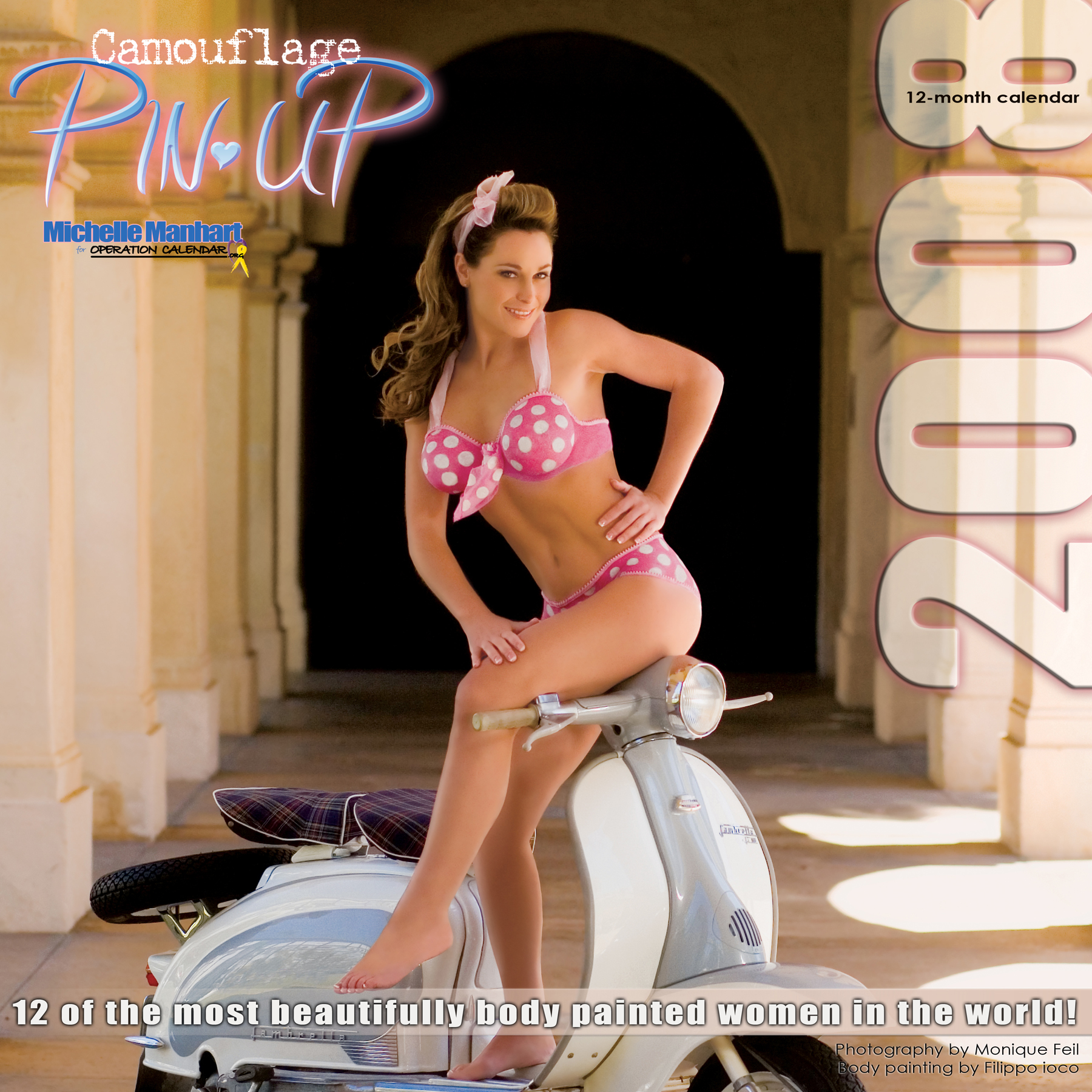 2008 Calendar Cover: Model Michelle Manhart - Photography: Monique Feil - Body Paint: Filippo ioco - Courtesy of Operation Calendar
She quit the Air Force in 2008, because she was reprimanded and demoted for the Playboy shoot. But she's stayed loyal to the military, according to Stars and Stripes, and appeared as the cover pin-up for the 2008 Operation Calendar, which raised money for wounded veterans and their family.