When Michelle Obama bounded back onto the campaign trail after a lengthy absence, we breathed a sigh of relief: it's good to be back.
The campaign trail, after all, is where we first encountered Michelle Obama and her refreshingly idiosyncratic style. Since 2007 when Senator Barack Obama was merely a "presidential hopeful," the fashion world has been intrigued (and to be honest, utterly enamored) by Michelle's bright patterns, vivid hues, kitten heels, wide belts, mixed prints and, of course, bare arms. The road to the White House was long but brought us some iconic fashion moments: the purple Maria Pinto sheath from the night Obama clinched the presidential nomination over Hillary Clinton; the red and black Narcisco Rodriguez dress from Election Night 2008; and finally, the green coat dress by Isabel Toledo, worn with J. Crew gloves on Inauguration Day.
So when President Obama secured the Democratic nomination once again in 2012, we were just itching to get back on that campaign trail with Michelle. What would she wear?
Luckily, she started things off right where she ended: in that purple Maria Pinto dress. What followed: a parade of sleeveless dresses in an array of bright colors and graphic patterns paired with low heels and flats (often in neon contrasting colors!). The brooches were back, as were the bared arms. Oversized pearls, uber wide belts and cardigans, on the other hand, are so 2008 and were noticeably absent.
Starting with the Maria Pinto dress and working our way to November 6, 2012, here are Michelle Obama's best looks from President Obama's second and final presidential campaign.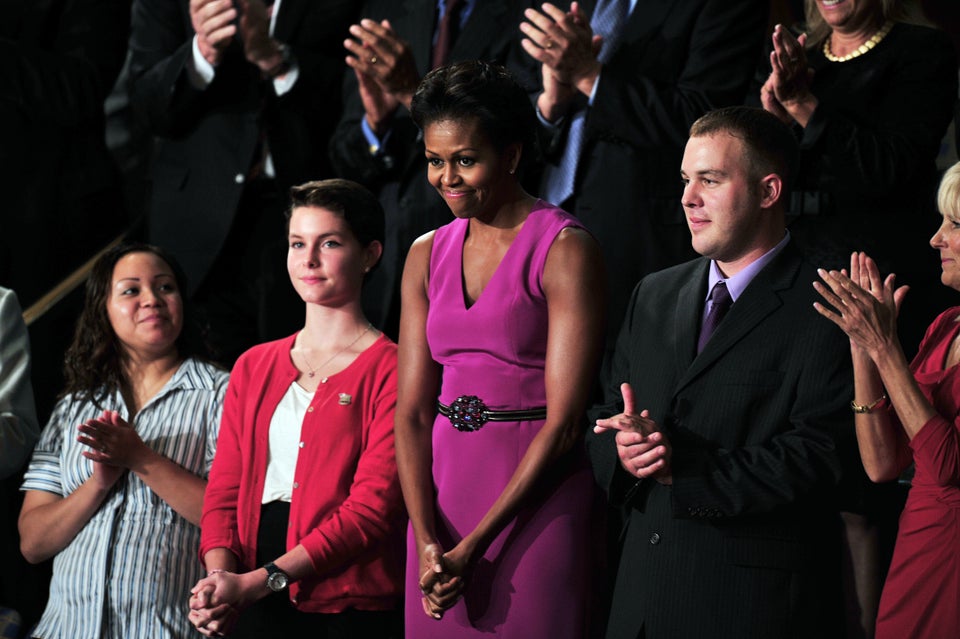 A Look Back At Michelle Obama's Campaign Trail Fashion