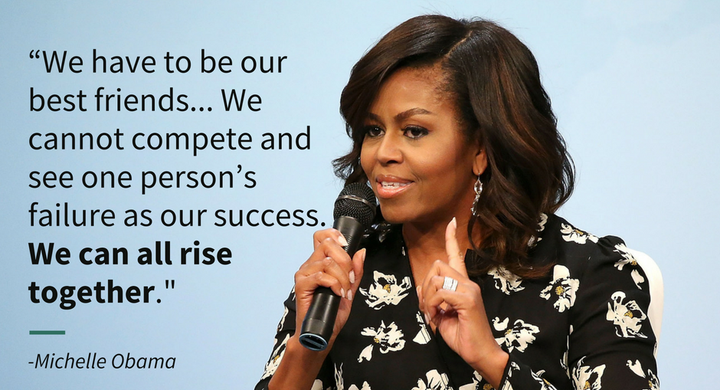 The First Lady knows the power of sisterhood ― and she wants every woman to practice it.
During the conversation, Leive asked Shahidi and FLOTUS one thing they would tell their 15-year-old selves. Shahidi, who's only 16 years old, responded that she would tell herself to stop stressing ― a bad grade won't be the end of the world.
"Education is so much more than the grade. But it is about access to experiences and access to the ability to pursue your dream," Shahidi told Leive. "Don't stress out about chemistry. You'll end up getting great grades in it anyway."
"We think we have to be perfect. We think that we can't stumble. And the only way you succeed in life, the only way you learn is by failing."
The real wisdom, of course, came with Obama's answer. "My advice to girls is always this ― and this is what I tell my daughters every day ― do not be afraid to fail, because that oftentimes is the thing that keeps us as women and girls back, because we think we have to be right," she said.
FLOTUS reminded young girls everywhere that you don't have to be perfect to succeed. Many times our failures are what help us get to where we need to be.
"We think we have to be perfect. We think that we can't stumble. And the only way you succeed in life, the only way you learn is by failing," she continued. "It's not the failure; it's what you do after you fail. Do you let it each you up? Do you quit? Do you give up? Or do you let it bolster you? Does it serve as the challenge in your mind to do more, to take some risks, to step outside of your comfort zone?"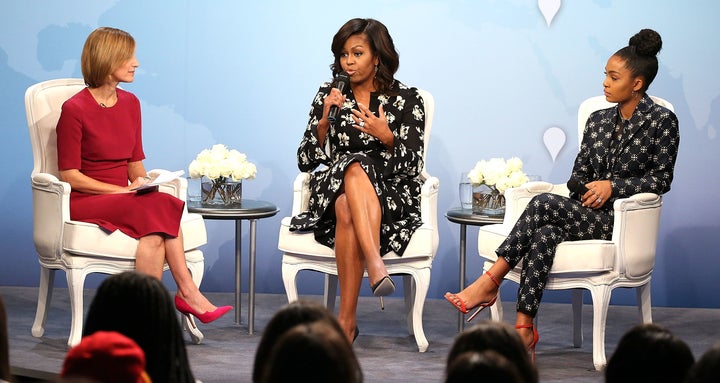 Obama reminded the crowd that the most important thing girls can do for one another is support each other. "We have to be our best friends ― each other," she said. "That means we cannot be catty. We cannot compete and see one person's failure as our success. We can all rise together. We can all win."
We're sometimes taught in our societies that we have to compete and we have to hold each other back in order for one of us to succeed. That is not true. We need each other. And all over the world, we have to be a team of women and girls who love each other and value each other and cherish one another. Because if we don't cherish each other, no one else will. So let's start there and start working together, and find a way that we're going to lift up some other girl in our lives. Maybe it's a little sister, a neighbor. But you can be a mentor today. So do that. Do that work now. Get in the habit of that.
The First Lady said she knows what it's like to be underestimated because she's a woman. As the creator of the White House's education initiative Let Girls Learn, Obama said it's important for young girls to push through feeling undervalued in order to succeed in school and beyond.
"Sometimes we have to be better. Sometimes we have to work harder. Sometimes we have to work to combat those negative thoughts in our heads about who we are, and how we look, and what people think about us," Obama said. "So many of us, as women and girls, we are haunted by the voices of other people who tell us what we can't do. And it's something that you have to work on every single day. Every woman that you know is working on this. I am still working on it. And it takes being conscious of the fact that these voices are there, and they can hold you back. But you've got to push through them."
Obama reminded young girls that they're "not alone" when they feel underestimated. "It's completely understandable. But it's you, and only you, that can drown those voices out. And another way to do that is to surround yourself by people who give you positive reinforcement."
Her last bit of advice to succeed? Ignore the haters, of course.
"You have to learn how to, as we say here, ignore the haters," FLOTUS said. "You got to keep them out of your life. You have to surround yourself by people who lift you up. And if it's one voice, keep that voice close to you."
Oh, FLOTUS, we will miss you so much.
Watch the full discussion below or head over to Glamour to read more about the event.
Before You Go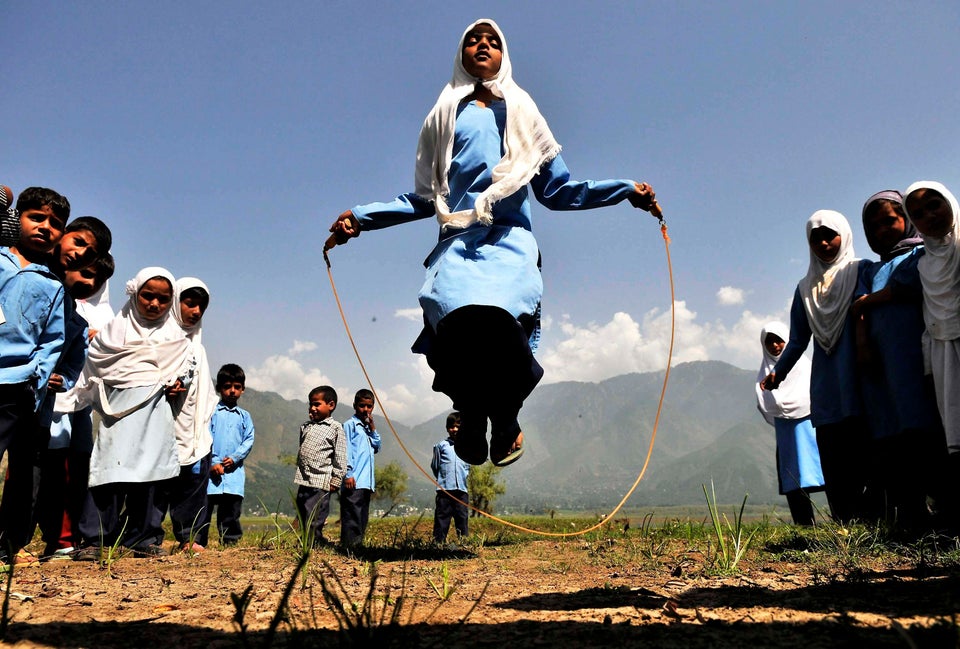 Photos Of Girls Going To School Around The World