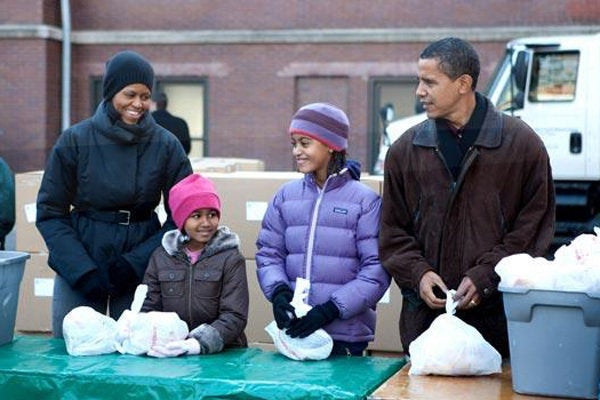 Today, First lady Obama announced the kick-off of United We Serve, the administration's nation-wide summer of service initiative that aims to expand the impact of existing organizations and encourage Americans to develop DIY service projects. Michelle Obama, who described service as "near and dear to [her] heart" encouraged everyone to head over to serve.gov to turn great ideas into successful service projects.
For community service opportunities in your neighborhood, checkout what Arianna calls a "craigslist for service" by going to AllForGood.org.
The fist lady said that the president is calling on all Americans to volunteer in local community service projects across the country as a means of revitalizing the economy and our national morale. "United we Serve" officially kicks off today and ends on September 11th, the National Day of Service and Remembrance.
WATCH:
In the video below, Obama urges Americans to help their local communities by volunteering at a homeless shelter, reading to kids at a local library, or getting involved in other projects. "We can rebuild our schools, but we need people to be mentors and tutors in those schools," Obama said in the video. "We can modernize our health care system, but we need volunteers in our hospitals and communities to help care for the sick and help people lead healthier lives. We can invest in clean energy, but we need people to use energy-efficient products in their homes and train for the green jobs of the future."
WATCH: