The First Family watched local performers during their tour of the Cidade de Deus Favela in Rio de Janeiro on Sunday. Sasha went sporty with sneakers, while the first lady showed her support of the country sartorially, in an outfit comprised of yellow, green and blue--the colors of the Brazilian flag. They later changed into pants to tour the Christ the Redeemer Statue at night.
Update 3/19 9:50PM:The Obamas are on the move! After arriving in Brasilia, Brazil Saturday morning, meeting with youth ambassadors, and wearing exciting outfits along the way, they headed to Brazilian President Dilma Rousseff at the Palacio do Alvorada, her official residence. For that encounter, the first lady wore an intricately embroidered dress. Then it was off to Rio de Janeiro, where the first lady and daughters stepped off the plane in what appeared to be color-coordinated yellow outfits. Outstanding!
*Scroll through the slideshow below for all their outfits so far.*
Previously:The Obamas --Malia, Sasha, Marian "First Granny" Robinson included-- touched down in Brazil on Saturday, and based on the outfits the first lady and her daughters have worn so far, it would seem that fun is the name of the game.
For their departure from the White House on Friday night, 12-year-old Malia sported beige booties, a polka-dot skirt, a military green jacket, and a pink tote bag for the flight. 9-year-old Sasha complemented her sister in a polka dot trench, red shoes, and a tie-dyed tote. Mrs. Obama wore a snazzy black leather jacket.
When they touched down in Brasilia some hours later, the family emerged in a range of playful prints (except for the president, who wore a dark suit). Malia looked a little more business, topping of her dress with a navy blazer. And all three Obama women were wearing an armful of bracelets and bangles.
Later in the day, the family joined forces with Brazilian President Dilma Rousseff (herself the recent recipient of an extreme makeover). The first lady had changed into a metallic suit, later removing the jacket to speak before 50 Brazilian youth ambassadors in a sexy one-shouldered dress. Scroll down for a report on the event.
Check out all the outfits and vote for your favorite below.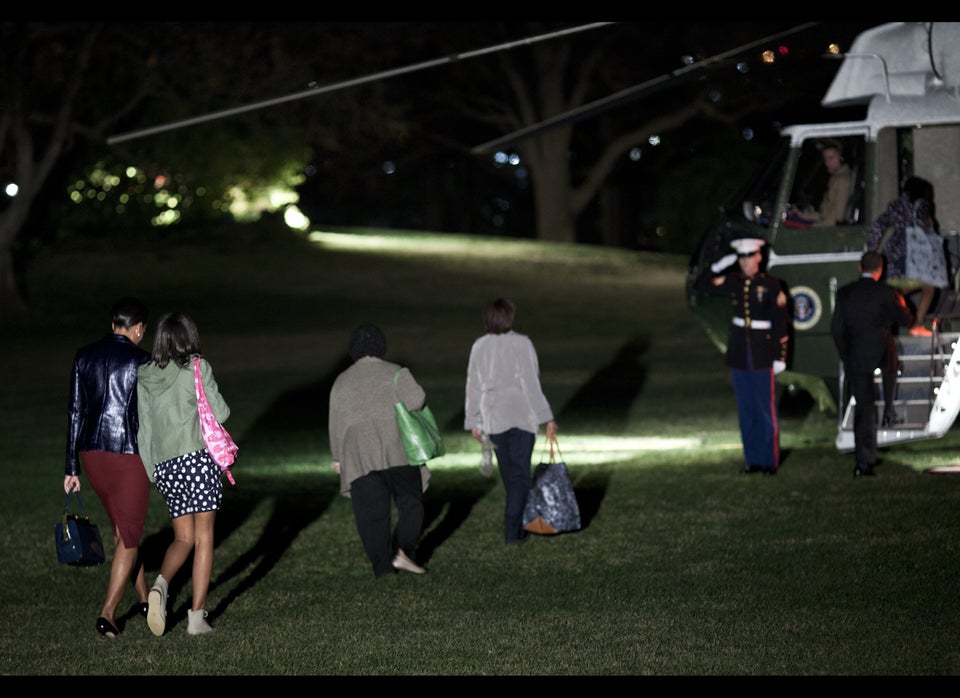 By BRADLEY BROOKS, Associated Press:
BRASILIA, Brazil - First lady Michelle Obama met with about 50 Brazilian youth ambassadors, took in a martial arts-dance presentation and was wowed by a group of female samba drummers during the first day of her and President Barack Obama's five-day tour of Latin America.

Waving and smiling as she entered an open-air space in a restaurant shaded by palm tress, Michelle Obama electrified the crowd of youngsters, many of whom have taken part in a State Department program that sends them to the U.S. for cultural exchanges.

"Bom dia! Is that it? That's all I have, unfortunately," Obama said as she greeted the group with the Portuguese phrase for "good morning," drawing applause and laughter as she confessed her poor knowledge of the language.

Obama, accompanied by daughters Sasha and Malia, and her mother Marian Robinson, then drilled home a message she has repeated to youngsters around the world: Education and trying to understand other cultures is one of the best cures for some of the globe's ills.Saying that she and President Obama "have always believed that the future of both our nations depends on more than just relationships between presidents and prime ministers," Obama urged those in attendance to "get out of your comfort zone and travel the world."Raquel Santos Silva, 20, did just that three years ago, traveling to Washington on the exchange program.

"It was a total dream, so inspiring" said Silva, an international relations student. "As is meeting Michelle Obama. She is such a strong black woman and her getting where she got in life is an inspiration for all the black women in Brazil like me."

Brazil is a nation of 190 million people, about half of whom are black. The black population is overwhelmingly poorer and holds fewer positions of power than its white counterparts. Barack Obama's election inspired blacks across Brazil, who began to believe that perhaps their lives could improve.

Icaro Soares Alves, 19, from the jungle city of Manaus, met Michelle Obama last year in Washington when he took part in the exchange program.

"This is one of the most important moments of my life, to meet her again," he said. "She breaks all the stereotypes that American people are cold. With her smile and embrace she is so welcoming. I think she must have a little Brazilian in her."

Both Silva and Alves come from poor backgrounds, and Obama lauded the extraordinary efforts of young Brazilians like them to escape poverty through education.

"I want you all to look at me and see that anything is possible. That's why I'm here. That's why I've come to talk to you all, because there is no reason why you can't be here," she said.After her brief remarks, Obama watched a group performance of capoeira, a Brazilian martial arts-dance that incorporates singing and playing traditional instruments. Her eyes grew large as the athletes flipped in the air and did other acrobatic moves.

A powerful samba drum group then took center stage, with 13 women blasting away heavy beats, temporarily startling the crowd. Within moments, Obama was tapping her golden high heels and swaying to the rhythm.
Support HuffPost
A No-B.S. Guide To Life
Related
Popular in the Community