 While President Barack Obama has acknowledged that his performance in the first debate failed to impress some voters, his wife said on Tuesday that she felt like the proud and nervous mother of an Olympian watching from the stands.
"When you watch the Olympics and you see all the gymnasts' parents, that's how I feel," first lady Michelle Obama told a small group of reporters at a roundtable discussion in Leesburg, Va.
"But you cant gesture, you can't yell, 'GO BABY! Yes!' They intimidate the hell out of you. So I'm just squeezing my hands, trying to make sure that I'm paying attention, because that's the only instruction he gives -- 'Just look like you're listening, that's all I want.'"
The first lady said she disagrees with criticisms of her husband's debate performance and could not be prouder of how he conducted himself.
"You know, I'm biased, but I think my husband has done a phenomenal job, not just in the debates but over these last three and a half years, and I continue to be in awe of how poised and consistent and honest he is," she said. "It's like when we were on "The View" ... I'm literally sitting there listening to him just lay out things in a conversational way, and I'm thinking, he's right! This is where we need to go."
Though she rarely speaks directly about legislative attacks on women's reproductive rights, Obama also told reporters on Tuesday that she will personally fight to ensure that the country does not turn the clock back on that issue.
"It is the rare instance where we take a deep dive backwards, where rights and freedoms are allowed to be taken away," she said in response to a question about what some are calling the "War on Women." "I just don't believe women will not fight tooth and nail to make sure that we continue to progress. I'm not going let it happen, whether I'm [in the White House] or not."
The first lady said the fact that certain women's rights, such as equal pay for equal work, access to reproductive health care and freedom from discrimination by insurance companies, are not fully protected in 2012 should be a strong impetus for young people to vote.
"The reality is that nothing is guaranteed," she said. "I think it's important for our daughters, our granddaughters, to understand that you're always fighting, you're always in there, you always have to vote ... Voting is our most powerful nonviolent tool for change, and every now and then we just need that reminder that if we're not looking, someone else with a different agenda may come in and completely disagree with everything we take for granted. If we want to protect it, young people have got to be at the table, otherwise you can't be mad."
Before You Go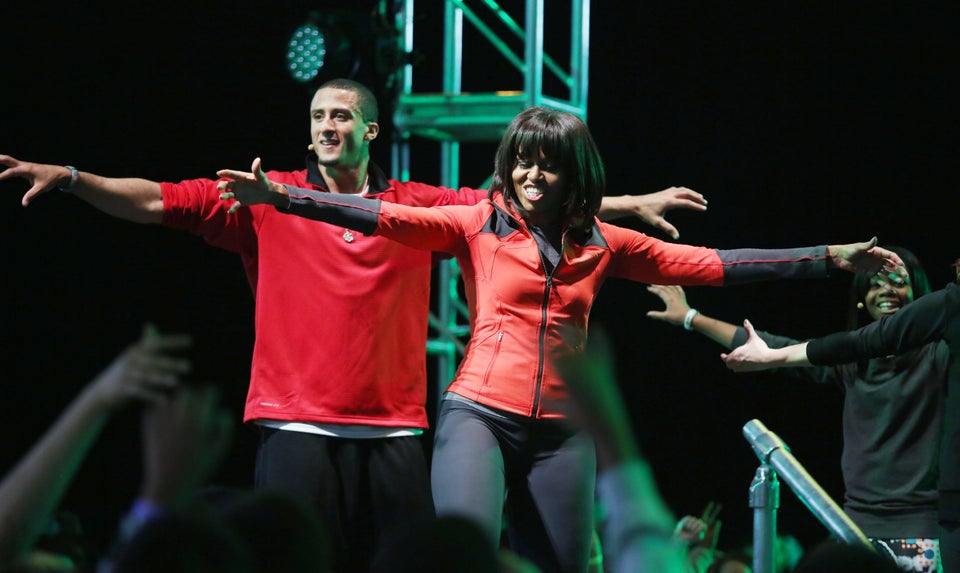 This Is How The FLOTUS Stays Fit
Popular in the Community