Full sartorial steam ahead! The first family flew into San Salvador, El Salvador on Tuesday afternoon for the last leg of their Latin American tour and they debuted a new set of outfits upon deplaning.
Michelle stepped out in a printed dress by Jason Wu that makes us pine for summer (ok, we'll even take spring) paired with an Alexis Bittar flower brooch, Sasha went with florals and Malia donned stripes and ruffles. The ladies, along with President Obama, of course, were welcomed by President of El Salvador Mauricio Funes and First Lady Dr. Vanda Pignato at the National Palace.
Afterward, Michelle and Vanda, clad in a lavender sheath, headed over to the Ciudad Mujer women's center to inaugurate the facility. From the AP report:
The center has a day care center for special needs children, a clinic, a micro-credit office, small-business workshops and legal and psychological help for domestic abuse victims. The plaque thanks the U.S. for help with equipment and furniture. There was no indication of the amount of aid.

"We were known for war, for poverty, for violence, but now we will be known proudly for the best project and policies in defense of the rights of women," Pignato said.
Later, Michelle made a quick costume change into a chartreuse halter dress over cropped leggings to channel her inner artista, painting a mural with students at the site of a USAID project called Superate Health Clinic. Her brief remarks were as follows:
MRS. OBAMA: Thank you. You guys, you know, I can't thank you enough for spending this -- letting us spend this time with you. You all were --

STUDENTS: Thank you!

MRS. OBAMA: I mean, we are so proud of you. I mean, truly. And I was just telling these guys that you all remind me of me and my brother because we benefited from programs like these for gifted students. And as a result of it he went to Princeton and I went on to Harvard. So I expect the same thing -- and I don't even speak another language. (Laughter.) You all are well ahead of the game. So keep it up. And the fact that you're giving back already -- that you're tutoring younger people, that you're helping your families --

STUDENTS: Yes.

MRS. OBAMA: The goal is to keep doing that because when you get in this position, that's the only way we continue. We pull, we bring people up along the way. So as you get higher and higher, you're always reaching back, always giving back. And you all are starting it off really well.

And thank you for being so kind to my mom and to my girls. (Laughter.)
In the evening, the first couple returned to the National Palace for their second state dinner in as many days. For right now, we only have several promising pics of Michelle Obama's outfit -- an ivory gown accessorized with chandelier earrings, a shawl and bracelets. Scroll down to read the president's toast.
On Wednesday morning, the first family was homeward bound. Michelle led the way in a gray tunic, capris and beige sandals, all of which we expect to see again come summertime.
Take a look at the pictures of the Obamas in El Salvador and stand by as we continue to update. And for more photos of their traveling styles, take a look at our slideshows of their time spent in Brazil and in Chile.
(All images by AP or Getty)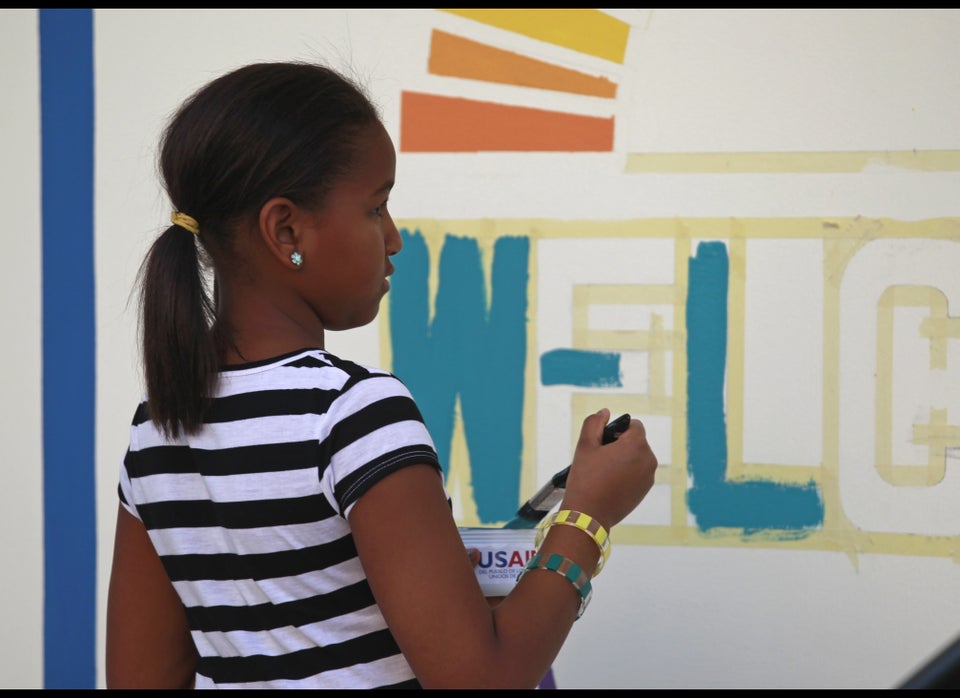 President Obama's state dinner toast:
Buenas noches. President Funes, First Lady, former Presidents Christiani and Saca, distinguished guests -- on behalf of Michelle and our daughters, thank you for the wonderful hospitality that's been shown to us here in San Salvador.

As many of you know, this has been my first trip through Latin America as President, and this is our final night. We are closer to home. I mean this in more than just a geographical sense. El Salvador is one of those places where the bonds between the United States and Latin America are strongest.

Just about every Salvadoran has a loved one or a friend in the United States -- husbands and sons, mothers and daughters -- working hard, sacrificing every day. They strengthen my country, and they mean so much to El Salvador. And they're very much in our thoughts tonight.

In my speech in Santiago yesterday, I said that Latin America is not the stereotype of a region in perpetual conflict or trapped in an endless cycle of poverty. I repeat that tonight because many look at a country like El Salvador and only see the struggles. I'm proud to work with President Funes, a courageous leader, to meet those challenges together, as partners.

But I also want take this opportunity to pay tribute to the side of this nation that is too often overlooked, which is just as real and just as important. It's the El Salvador that endures -- even when the earth shakes and the floodwaters rise -- because Salvadorans are a people who persevere.

It's the El Salvador that has struggled for justice and human rights -- and, along with President Funes, I was honored to visit the cathedral this evening and pay my respects to Archbishop Romero, who remains an inspiration to people all around the world. And I see the current archbishop here. We're very grateful for the wonderful tour that you offered.

It's the El Salvador that not only forged historic accords, but has sustained them for nearly two decades --proving, in the words of your national anthem, that "happiness is found in peace."

And it's the El Salvador that gets up every day and goes to work -- students, merchants, farmers, young entrepreneurs, business people -- who remind us that building a just and prosperous future cannot be the work of government alone; it must be the responsibility of all who love their countries.

Of peace enjoyed in perfect happiness

El Salvador always nobly dreamed,

To achieve this has been Her eternal struggle,

To keep it, Her greatest glory.

With these words, I'd like to propose a toast -- if I can get a glass. (Laughter.) To President Funes and the First Lady, for their outstanding hospitality and friendship, and to the peace and happiness that we seek, for our peoples, for the region and for the world. May we not only achieve our dreams, may we keep them, for this and for generations yet to come. Salud. (Applause.)
Related