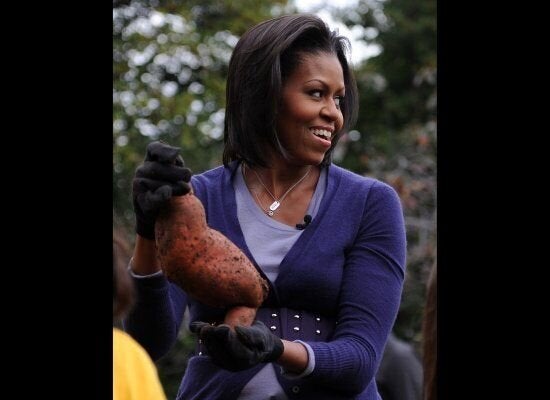 Thursday Michelle Obama hosted students to help her harvest the White House garden. The students were enthusiastic to help dig up some vegetables, and the First Lady charmed the them by telling them about the garden:
So then the summer went by, and now it's fall, and there's a whole new crop of food here that's ready to be harvested. And actually we've done a little bit of that. My girls and I, we got a couple of the sweet potatoes, and we're going to do some of those -- these sweet potatoes are huge! They're huge. So hopefully you guys will be able to pull up some of these huge sweet potatoes.
The First Lady also asked the students how much they thought it cost to plant the garden. They guessed $300, $800, $1000 and $6000 as Michelle acted as auctioneer.
She then revealed the answer: "Over 740 pounds of food have come out of this little piece of land..... It [cost] about $180."
In addition to the White House kitchen preparing the vegetables, they are also being donated to Miriam's Kitchen, a soup kitchen in DC.
Way to show the world how economical, practical and affordable gardening is, Michelle!

Related
Popular in the Community