Our beloved FLOTUS accomplished a lot in the eight years she was in the White House. She fought for better education. She tackled race issues. She served as a fashion icon. But she is perhaps best known for her health advocacy.
Over the past eight years, the first lady has put well-being ― both physical and mental ― at the forefront of her work. From food initiatives to mental health awareness, Obama has truly captured what it means to be a health icon. Below are just some of the ways FLOTUS prioritized wellness during her tenure:
Michelle Obama tackled childhood obesity head-on
FLOTUS founded the Let's Move campaign in 2010, which was arguably her most well-known initiative while she was in the White House. The program was created to encourage regular exercise and better nutrition in young children to help curb childhood obesity.
"The physical and emotional health of an entire generation and the economic health and security of our nation is at stake," she said in a press release at the launch of the project. "This isn't the kind of problem that can be solved overnight, but with everyone working together, it can be solved."
Since Let's Move's inception, Obama has traveled to numerous elementary schools to promote the pillars of wellness ― and of course, had fun and made it look effortless in the process.
She showed us how to do a mean roundhouse kick.
Just look at that form. FLOTUS has led by example, showing us her killer workout moves on camera. In this particular example, Obama recorded her participation in a sweat-pumping kickboxing session. Is there anything more badass?
She made healthy eating cool.
Most recently, FLOTUS hosted her fifth-annual Kids State Dinner, an event that celebrates aspiring young chefs and kids who place a priority on healthy eating. The winners of the contest were invited to share a healthy lunch with Obama, which featured recipes submitted by the kids in attendance.
She slammed the stigma surrounding mental health...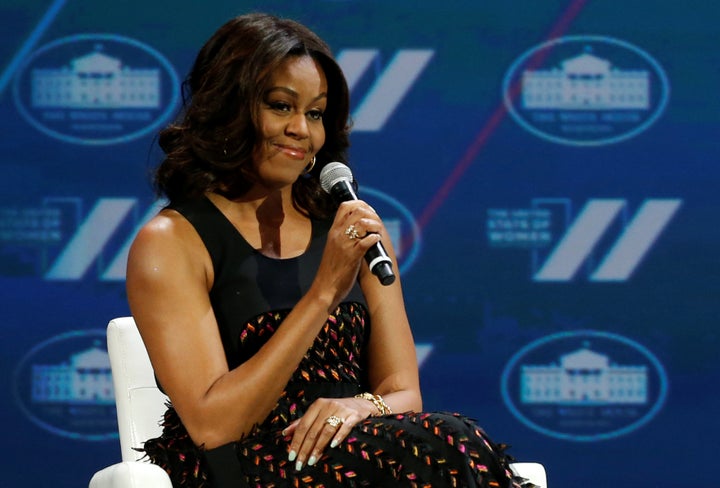 Obama eloquently tackled mental health awareness time after time as FLOTUS. She spoke out about the importance of treating mental illness with the same urgency and sensitivity as physical illness. She also joined forces with the Duke and Duchess of Cambridge to advocate for children's mental health as part of their Young Minds Matter initiative.
"We need to learn to identify the signs of mental-health issues. We need to have the courage to reach out and have tough conversations with our friends and family members — and get help ourselves when we need it," Obama wrote in a HuffPost U.K. blog about the project. "And we need to recognize that our mental health is just as important as our physical health, and start treating it that way."
...And supported vets by encouraging them to talk about PTSD.
The first lady also teamed up with Prince Harry this year for the Invictus Games, a sporting event dedicated to wounded veterans. Both Harry and FLOTUS sat down with Good Morning America to discuss the negative stereotype that comes with being a veteran experiencing a psychological disorder. They stressed the importance of reaching out for help and seeking treatment for issues like post-traumatic stress disorder.
She made working out look fun, carefree and even glamorous.
And, finally, she gave us some serious #ArmGoals.
Thanks for your health advocacy, FLOTUS. We'll miss you tremendously come January.