Just a few weeks ago, Nas was honored
with a hip hop fellowship in his name at Harvard University. Teachers are using hip hop in their classrooms to get students
interested in math and science, and now the first lady, Michelle Obama is utilizing hip hop as a platform to educate and influence young people.
The album, set to be released on September 30th features artists including Run DMC,
Ashanti, Doug E. Fresh and Jordin Sparks. The video above, called "Everybody" was released in June and features an appearance from the First Lady and Dr.
Oz.
Obama is far from shy when it comes to showing off her hip hop moves. Back in 2011, we saw her doing the "Dougie" and "The
Running Man" at the Alice Deal Middle School and since then, we've also seen her dancing to Pitbull.
The rest of the videos will be distributed across the country beginning with 40 schools in New York City and expanding to other major cities, according to US News And World Reports.
The directors of the project are looking to create a strong resonance within the African American community. Close to 50 percent of African American
children are overweight, according to a 2011 National Healthcare Disparities Report.
"Cultural leaders and visionaries in our country can give these messages to kids in a way that's not preachy. Kids are going to be dancing and listening to
the music,"Let's Move! Executive Director and White House assistant chef, Sam Kass explained.
"I think hip hop in particular – so many kids love hip hop. It's such a core part of our culture ...and particularly in the African-American community and
the Latino community which is being disproportionately affected by those health issues."
Support HuffPost
Every Voice Matters
Before You Go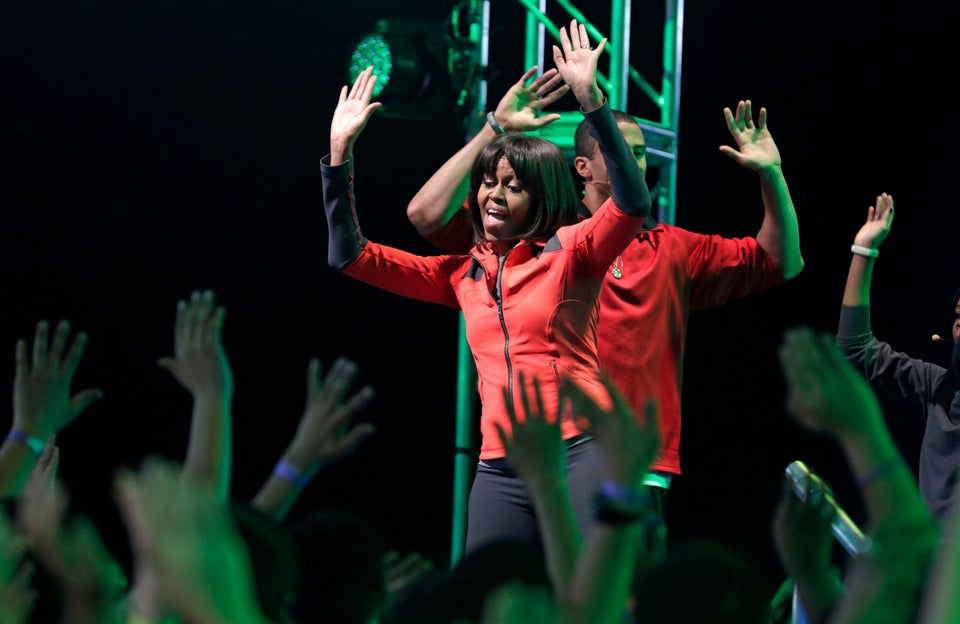 Michelle Obama Talks 'Let's Move' In Chicago
Popular in the Community