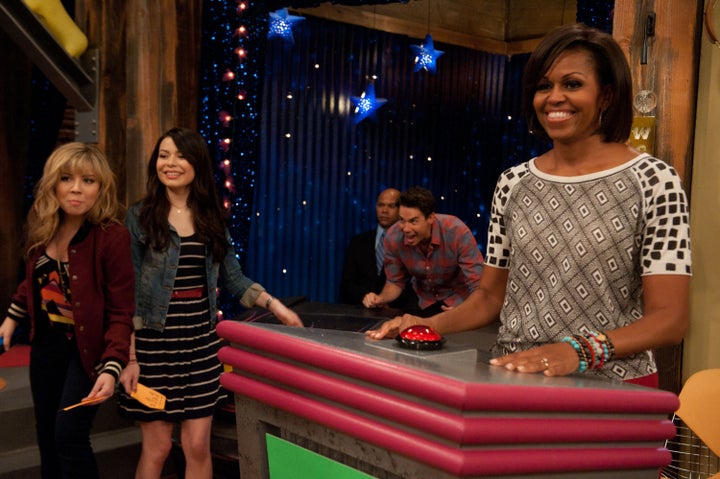 It was a curious request to make of the cast and crew of a wholesome kids' television show, and it came without explanation. Everyone who worked on the set of "iCarly" was instructed to disclose their Social Security numbers and submit to a federal background check; a surprise, they were promised, would come in a few weeks' time.
"At that point, we had no idea that we were going to have a special guest star or anything, but that was kind of our hint that something important was happening," Nathan Kress, one of the show's popular teenage stars, remembered.
It was a good guess. This Saturday sees the long-awaited premiere of the "iCarly" episode guest starring Michelle Obama, who will be appearing on the hit Nickelodeon comedy to promote her message of support for the children of military families. As memorable as the televised event will be for viewers, the experience of making the episode was one the young cast will never forget.
Tension was high on set as the Secret Service swept the studio, but "fortunately [Obama] is super nice and incredibly personable, so as soon as she got on set and we were hanging out with her it was completely comfortable," Kress said.
"It was weird because we were nervous at the beginning, but after a while, to know that she's a normal person, it was kind of funny," Miranda Cosgrove, who plays Carly, the show's precocious teen lead, laughed. "We sort of stopped thinking about the fact that she was the First Lady and just had a really good time."
Obama plays a version of herself, one who happens to have been moved by an episode of the web show within a show -- think NBC's "30 Rock" for tweens -- put on by Carly, Freddie (Kress) and their friends Gibby (Noah Munck) and Sam (Jennette McCurdy).
The guest part is more than a mere cameo; the First Lady's TV-self visits Carly after learning that the webcasting teen's father, an Air Force pilot, has had his return home delayed by another redeployment. To her credit, the cast said, Obama took on the challenge of learning a substantial amount of dialogue despite frequent travel and an always-packed schedule.
"We definitely made sure to give her a lot of room to do what she needed to do," Kress said, saying they carved out extra time with the assumption that she'd make a lot of bloopers.
"She really didn't [make mistakes], and she had a massive chunk of lines and she got it down just about perfect almost every time. So she did incredibly well with the very small amount of time she was given." He singled out her ability to crack up on command at a very unfunny joke, saying, "It's tough to come up with a convincing laugh, and she did that almost every time. That's when I knew she'd be good."
To make sure they could fully capture all her scenes in the limited time she had available for the shoot, the director filmed all the shots in which Obama would be featured first, then later shot the footage of the rest of the cast that did not require her presence. In what is sure to be the most memorable clip from the episode, the First Lady shuffles, claps and lets loose in one of the show's patented Random Dances. For that scene, she had a little advance help.
"She was talking about how her daughters had shown her some moves so she wouldn't be embarrassing on camera," Kress recalled, to which Cosgrove added, "I dont know why, I kind of expected her to be a little shy about it, but she wasn't at all -- she got really into it, she had a lot of good moves."
Munck, who plays a younger, perhaps less-intelligent character, was even more effusive. "She has moves. She can kick my butt in a dance competition, definitely," he said.
During breaks, the cast got some more face time with the First Lady. A fashionista with her own clothing line, Cosgrove took the chance to chat up Obama about her vaunted style. "She dresses really cute," she laughed, "and Jennette and I are both really into clothes and fashion. We thought her outfit that she wore on the show was really cute."
For Munck, the one-on-one time was a bit more serious.
"My dad's an ex-Marine, so I come from a military family, too," he said. "It's cool to see that she's promoting [her message] through our show ... she was just really supportive of that."
The celebrity worship did not flow entirely in one direction. The FIrst Daughters, Malia and Sasha, are huge fans of the show, and the cast signed photos for them while they spent time with The First Lady in the green room. It's amazing, the stars all agreed, to think that their show plays in the White House, though Cosgrove is a bit more used to the idea of appearing on an Obama household television. Having previously met the First Family at an event in Washington, she remembered the President telling her that he had seen "School of Rock," the 2003 Jack Black film in which Cosgrove co-starred.
"That," she marveled, "was crazy."
Kress, for his part, doesn't just want the President to see his work; he's got a plan to get the leader of the free world as the next special guest on "iCarly."
"What would be cool would be if it was a cameo, and they shot it completely separately, and we were doing a web show and then it cut away to them just sitting in the Oval Office with a laptop, watching the show," Kress laughed. It was a half-serious suggestion, and not a crazy one; after starring alongside the First Lady, he's got every reason to dream big.
Calling all HuffPost superfans!
Sign up for membership to become a founding member and help shape HuffPost's next chapter