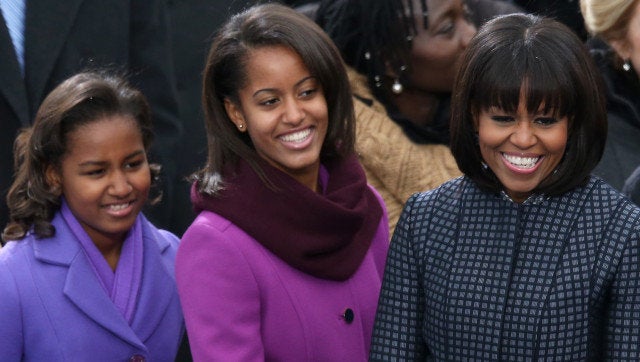 OK before we can begin to cover J. Crew's reactions to the Obama ladies sporting a hefty dose of the mass retailer during yesterday's inauguration, let's take a formal tally of the garments, shall we?
Michelle Obama: 2 purple gloves, 1 sparkly belt, 1 pair Valentina heels
Malia Obama: 1 magenta coat, 1 dress
Needless to say, J. Crew was the sartorial star of the day (the night belonged to Jason Wu, obvi). Lucky for us, Jenna Lyons, the brand's creative director, made the media rounds this morning and didn't spare any details about dressing the first family. First off, did Mrs. O call J. Crew to have dozens of belts, fabric swatches and boxes of shoes sent over in preparation for the big day? Psh, FLOTUS is no fashion diva, she says.
"As far as we know, they literally ordered online and they shop like anyone else in America," Lyons told Women's Wear Daily.
Unfortunately, this means that she wore the current season's duds -- meaning, you probably won't be able to buy them. The bespectacled designer told CNN this morning that, when it comes to Michelle Obama increasing sales, it's not so simple to calculate. "I think it's difficult to equate it into dollars," Lyons said "Oftentimes we don't know if she's going to wear [J.Crew] so the item may not be available or might be on sale ... We do see increased awareness."
Oh and actually, in this particular case, you can't get your hands on the Obamas' J. Crew pieces if you don't already own them. Speaking to "The Today Show," Lyons said that 14-year-old Malia's coat will be continued but not in that particular color "out of respect for the first family." As for the polarizing jeweled belt that the first lady added to her Thom Browne coat, you'll also be out of luck.
"That belt was actually a sash. She fashioned it into a belt around the coat," Lyons said. "We won't rerun that. She did her own thing to that, and out of respect, we'll let her have her moment."
Fiiiiine, Jenna. By now, you should know that the Obama girls shop at J. Crew a lot, so we'll leave it up to you to forecast the pieces you think they'll wear. Because, really, is there any worse buyer's remorse than that brought on by the first lady wearing that piece you discarded on your local mall's dressing room floor?
See the Obama ladies' J. Crew ensembles from Inauguration Day!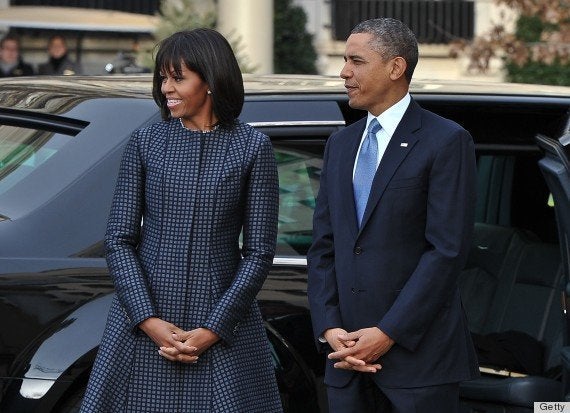 The Obamas' Inauguration Day Outfits!
Related