It's a toss-up of who's been busier lately: Michelle or Barack Obama. While the president travels the country, the first lady's been making moves of her own, including on the "Late Show With David Letterman" Monday night.
Our favorite topics, of course, were shopping and that adorable First Pup. Letterman asked the first lady about her freedom of movement -- "If you said, 'I'm going to the 7-11 to get a slurpee,'" asked Letterman, "could you do that?"
"I technically could. It would drive a lot of people crazy," answered Michelle gamely. "I've threatened to do it, I do it all the time. I've said 'I'm walking out that door. I'm leaving.' And you see people talking in their wrist -- 'She's kidding!'" she added, mimicking the Secret Service. "I'm gonna do it one day!"
I went to Target. I thought I was undercover. I have to tell you something about this trip though. No one knew that was me, because a woman actually walked up to me, I was in the detergent aisle, and she said -- I kid you not -- she said, 'Excuse me, I just have to ask you something."

And I thought, 'Oh, cover's blown.'

She said, 'Can you reach on that shelf and grab me the detergent?' I kid you not. And the only thing she said -- I reached up, because she was short -- and I reached up, pulled it down, and she said, 'Well, you didn't have to make it look so easy.'"
She is tall, that Michelle. She also is a proud pet owner. When Letterman asked about Bo, Michelle beamed, "He is the smartest dog on the planet. He is my son. I have two girls and a boy. [...] He's very well-mannered, he's very even-tempered. He has a busy schedule, I mean appearances... we're thinking about getting him an agent."
Before You Go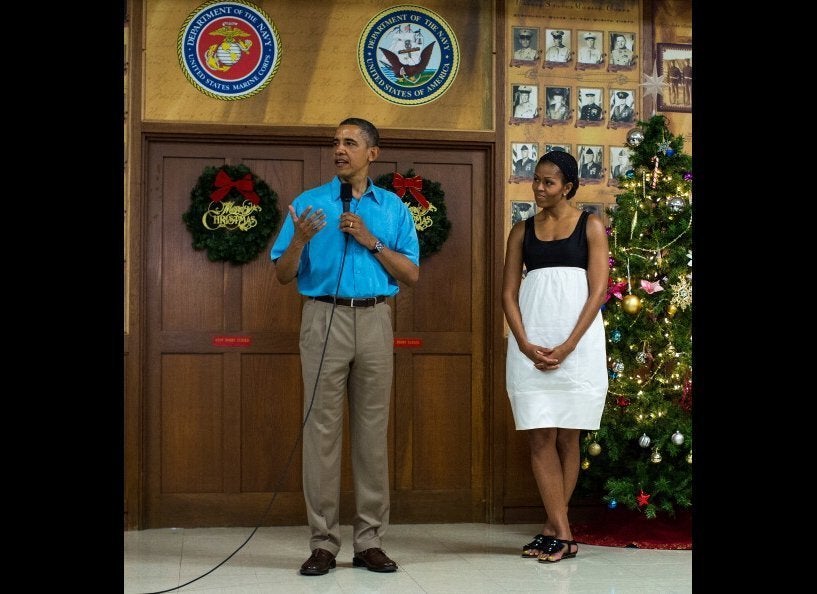 FLOTUS Lookbook 2012
Popular in the Community