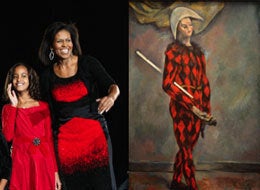 There is a riot of color issuing forth from the First Lady's closet and I cannot wait to see what she wears next. Say what you will about whether or not it was "appropriate" to wear a cardigan to meet the Queen or whether that balloon skirt was flattering, Michelle Obama is a Master Colorist -- and I as well as my artist friends could not be more ecstatic.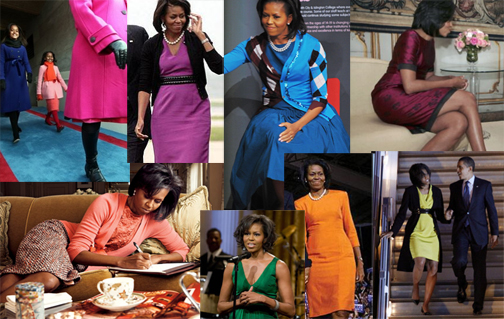 A Collage of Michelle Recent Outfits
A woman's journey through fashion is a life cycle in and of itself. As I look at the bold strokes of Michelle's color sense today I reflect upon Michelle's journey in fashion and color as one that might parallel my own and other women like her.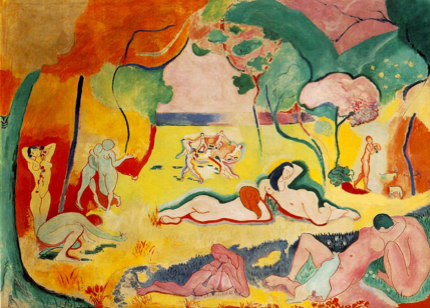 Behold Matisse
As a young girl, I thought of fashion and color as a means to make myself more attractive to the opposite sex. My grandmother once told me, "Red and yellow, catch a fellow; pink and blue, keep him true." My entire sense of fashion was about sexualization and objectification. I essentially wanted to make myself look pretty for the boys I had crushes on. At camp I would look at Seventeen, Vogue, Cosmo and Bazaar. But when I went to college, I got serious about my studies and great literature and momentarily shunned fashion or looked down upon caring too much about it. This was not just because I didn't have any money to pay for it. It was also due to the culture inside the Ivory Tower -- and I believe many other Ivy League-type schools -- which mostly eschews fashion in exchange for the idea that the main purpose of our bodies is to provide a container for our brains. So while I may have I swooned over the finery described in words during a Proustian night at the Opera, fashion stayed in my head whereas Levi's, a comfortable Gap t-shirt and a cool leather jacket was my uniform.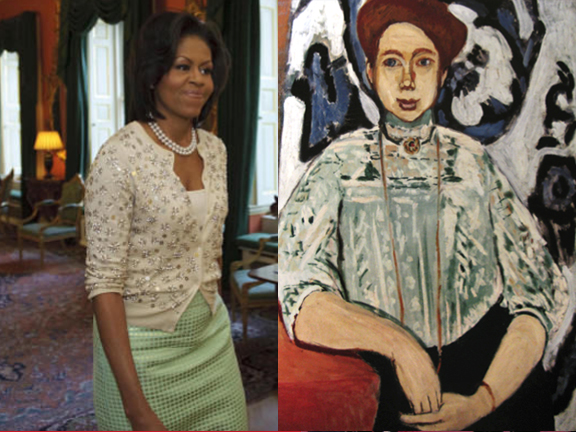 Obama, Matisse and J. Crew
It is often after women leave the university and enter the workforce that a different sense of fashion emerges and we pick up the magazines again, first for ideas and then reading them with new eyes. I started to become more cognizant of fashion as a language. Navigating the workforce was confining for me at first and my leftover sexy sense of fashion led to unwanted passes. Even though my first job was in the design industry, it was a very macho, male-dominated environment, not unlike Mad Men. There was a need to balance looking creative, smart and tough if you were to be taken seriously. I opted for a reinvention/upgrade of my student self and learned that black boots or heels and a crisp white shirt is better for negotiating a room full of men. I lived in San Francisco. It was often grey and cloudy. And with the exception of an occasional red sweater, most of my wardrobe was black. It was very easy to go shopping. While I only touched color with cool scarves, I had unwittingly become a student of the silhouette. Languages, after all, must be learned one word and one phrase at a time.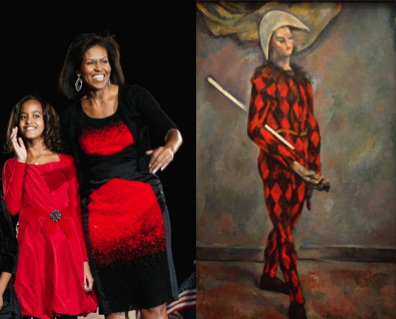 Obama, Cezanne, Narcisso Rodriguez
And this is where a lot of us working girls sleep walk well into our late twenties. We're finally earning money and can afford a fabulous shoe. For me, I had moved to Los Angeles and the working girl uniform from San Francisco was no longer cutting it. (The different fashion styles of San Francisco and Los Angeles is a subject in and of itself.) I suddenly no longer saw fashion as a weapon of either sexuality or power in the work place, but rather as a universe of fabric, texture, color just as vibrant as the ones on my palette in the studio. I often dived into one color at a time, learning what works, what makes sense together and what looks best on me. After gaining a certain confidence, women learn to really celebrate themselves and life itself through what they choose to wear. That is what Michelle Obama is doing with color and so much more.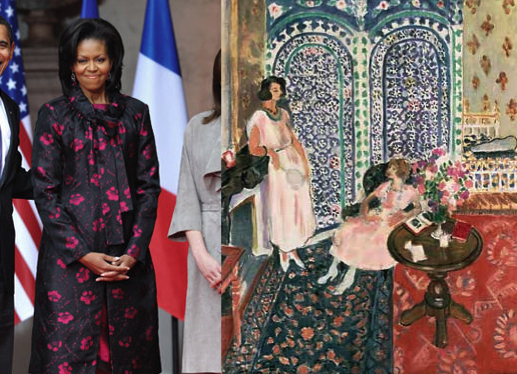 Obama, Matisse
In reality, a woman's journey in color and fashion is a sign of a healthy society. All the most oppressive regimes towards women cover them in black. I don't care what the faux religious excuses of Saudi Arabia, Pakistan and Afghanistan are. The silence of color in an entire culture is emblematic of the suppression of women's spirit and influence on it's culture. Michelle Obama's use of color and fashion is empowering and enlightening to the women in this country. It is the fashion equivalent of Walt Whitman's "Leaves of Grass" and awakens in all of us the beauty of life and every day. As an artist, I am doubly appreciative of splashes of chartreuse and yellow, purple and green as fly across my television and computer screen. As an American Woman, I am filled with pride and hope it spreads like a California Wildfire.
Calling all HuffPost superfans!
Sign up for membership to become a founding member and help shape HuffPost's next chapter