First Lady Michelle Obama's support of the American fashion industry seems to know no bounds. First she showed us fashion's future by wearing dresses by American up-and-comers Jason Wu, Maria Pinto, and Thakoon Panichgul -- and now she is giving us a glimpse into our nation's fashion history.
For tomorrow's TNT Christmas in Washington broadcast -- taped on December 12 -- Mrs. Obama is sporting a vintage 1950s black lace dress by one of America's once-great, now-obscure American designers, Norman Norell.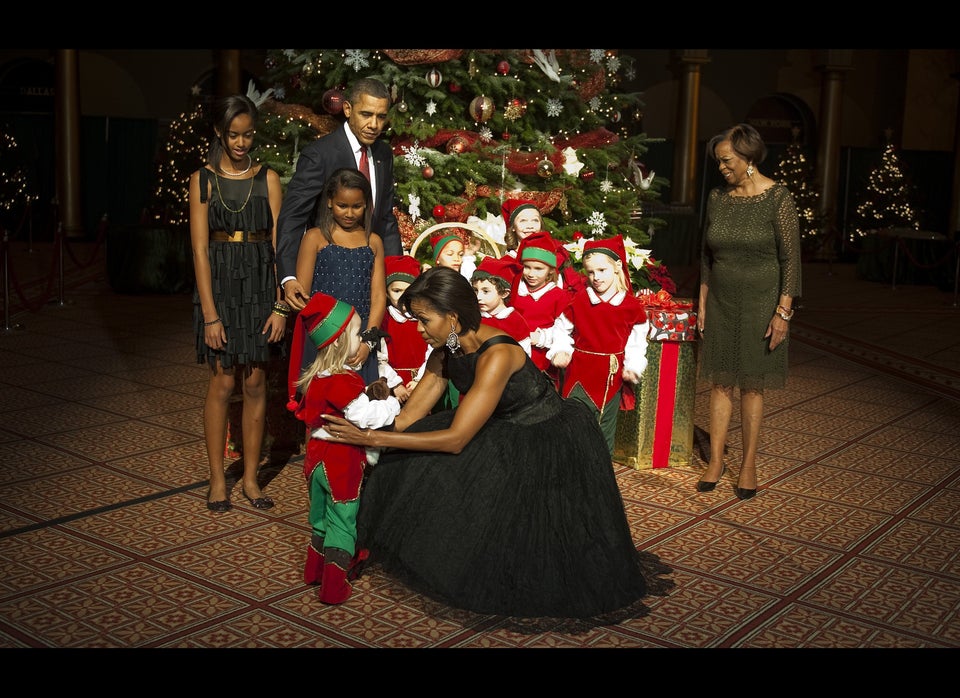 This rare garment came from the impressive archive of New York Vintage, whose owners cite this as a rare - and perhaps unique - instance of an American First Lady wearing vintage at a public event.
"[This is] truly an historic event, as this may be the first time a First Lady has worn a vintage dress," says New York Vintage co-owner Jon Schneck. "Other dresses from the archive have been scheduled for use by the First Lady later this year. We are truly honored that the First Lady has chosen a gown from New York Vintage as her first venture into vintage couture."
While little known these days outside fashion circles, designer Norman Norell (1900 - 1972) was one of America's most influential mid-century designers. His simple but stylish clothing was known for its timelessness, glamor, and beautiful construction. Considered the first American fashion designer to compete successfully with the then-omnipotent French couturiers, Norell's obituary appeared on the front page of The New York Times with the headline: "Made 7th Ave. the Rival of Paris."
New York Vintage, a boutique in Manhattan's Chelsea neighborhood, boasts an archive of clothing dating back to the early 1800s, and includes designs by "Father of Couture" Charles Frederick Worth, Paul Poiret, Elsa Schiaparelli, and, of course, Chanel. They also stock pieces by American designers James Galanos, Halston, and Mainbocher, among many others.
Schneck and his business partner (and wife) Shannon Hoey regularly dress Hollywood's A-List for red carpet events and loan pieces for elite magazine editorials. Their apparel has been worn by countless celebrities, including Lady Gaga, Julia Roberts, Scarlett Johansson, Jessica Lange, and Beyonce.
Christmas in Washington, a holiday musical celebration benefiting the Children's National Medical Center, is annually attended by the President, the First Lady, and other Washington VIPs. Now in its 29th year, the special features Ellen DeGeneres as its 2010 host. It will air on TNT tomorrow evening at 8/7c.